Bangladesh's Tazreen Fire Is Followed by Further Garment Factory Blazes
By and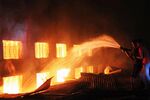 On Nov. 24, a fire broke out in the Tazreen Fashions plant outside Dhaka, Bangladesh. It was the worst industrial accident in Bangladesh's history, resulting in 111 deaths and provoking widespread calls for improved safety measures in the country's garment industry.
In the four weeks since the Tazreen fire, 17 additional conflagrations have broken out in Bangladeshi textile and garment factories, based on reports in the local press that were compiled by the Dhaka office of Solidarity Center, an organization affiliated with the AFL-CIO. In one case, a worker died as panic-stricken employees jammed a stairwell to escape their workplace. A separate case involved no fire, but workers rushed out of a factory after an electric short circuit made a loud noise.
Abdus Salam Murshedy, president of the Exporters Association of Bangladesh and a member of the Bangladesh Garment Manufacturers & Exporters Association, says the fires were triggered by short circuits, faulty wiring, or sudden power surges. "Some workers got injured when they started running out of their factories in a panic. We are trying to boost confidence among the workers so they don't panic in case of a fire."
Murshedy is coordinating an effort to improve safety standards in garment factories in the industrial belt of Ashulia, on the outskirts of Dhaka. "We won't be able to do our business any more without improving compliance standards," he says.  The government of Bangladesh did not respond to requests for comment.
If the Tazreen fire effectively pushes the government and the factory owners to make Bangladesh's garment factories safe—much as the Triangle Shirtwaist fire did in the U.S. a century ago—"It would be a sea change that we've been looking for for a long time," says Celeste Drake, trade policy specialist for the AFL-CIO. The use of child labor in Bangladesh has diminished considerably, thanks in part to outside pressure, she says, noting it may take action by the U.S. government to convince Bangladeshis to change further. In particular, she says, "the president has the power to remove tariff benefits from a country," which would make U.S.-bound exports from Bangladesh more expensive.
For Cathy Feingold, director of the AFL-CIO's international department, and Scott Nova, executive director of the Worker Rights Consortium, big U.S. and European retailers and apparel companies must be persuaded to press Bangladesh to do more. "The brands need to take responsibility for their supply chains," says Feingold. Nova says he figures it would cost the big brand companies less than 10¢ per garment to ensure safe factories in Bangladesh. Instead, "as long as the companies press for low prices from their suppliers, the government of Bangladesh cannot be active in improving safety," he says. With subcontractors in Bangladesh operating on razor-thin margins, they face an incentive to cut corners.
The best motivation for Bangladeshis to improve worker safety may come not from corporations or the West, however, but from neighboring Burma. As that country emerges as a potential center for textile and apparel manufacturing, Burmese trade unions are viewing Bangladesh as a case study in how an emerging-market economy should not handle issues of safety and workers' rights, says Tim Ryan, Asia department director for Solidarity Center. "They look at Bangladesh and say, 'we don't want to go down that route," he says, suggesting that a prospering, worker-friendly state on its border might add to pressure for Bangladesh to improve workplace safety and overall conditions for its own garment workers.
Before it's here, it's on the Bloomberg Terminal.
LEARN MORE