MBA Rankings: Top Schools for International Business
Geoff Gloeckler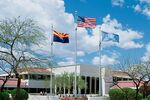 As part of the 2012 Best B-Schools ranking, Bloomberg Businessweek asked MBAs from the Class of 2012 to tell us, through an online survey, about the full range of their business school experience, from getting in to getting a job. One section of the survey singled out specific aspects of the business program and asked the students to rate them on a scale from "poor" to "outstanding." Over the next few weeks, we will publish the top 10 B-schools in each of the nine specialty areas, from diversity to leadership to entrepreneurship, culminating with publication of the entire specialty MBA ranking, including each of the 82 ranked schools.
Today we look at international business. The ranking is based on student responses to the question asking them to rank their program's international business offerings. Points are awarded for each response—one point for "poor" through six points for "outstanding"—and averaged for each school. The average international business score for all 82 U.S. and international schools in the ranking was 4.33. At the top of the list is the Thunderbird School of Global Management.
Over the past decade, international business has become a mainstay in nearly every B-school's curriculum, but Thunderbird has history on its side: The Glendale (Ariz.) business school has focused on the discipline since its founding in 1946. "We don't just read about global business," says Kyle Larsen, a 2012 MBA grad. "Half of my classmates are international students, representing a variety of opinions and perspectives in class discussions and social settings."
To get a sense of just how important a global focus is to Thunderbird, pay a visit to the B-school's dining hall. A recent lunch menu included Peruvian pork, lentils and rice, and red beet salad. The next day, it was Sri Lankan chicken curry, with jasmine rice and cucumber mint salad. Eat there every day for a month, and you will have taken a culinary trip around the world. In the classroom, students get a heavy dose of foreign policy, global economics, and international consulting. Outside, it's semesters abroad, experiential learning, and the requirement of proficiency in at least one foreign language.
Following Thunderbird is INSEAD. The European business school boasts campuses in France, Singapore, and Abu Dhabi and partnerships with business schools in the U.S., China, and Brazil. The student body is culturally diverse, with 95 percent hailing from outside of France and representing 80 countries. To take advantage of this, students are divided into five- or six-person study groups with very little overlap of nationality, thus providing a more global viewpoint of the core curriculum.
Course offerings at INSEAD include core classes such as International Political Analysis and Macroeconomics in the Global Economy, as well as finance electives such as China's Capital Market and International Financial Management. Additionally, MBAs have the option of taking part in a student exchange at Wharton or Kellogg to get a first-hand look at business in the U.S.
IMD, London Business School, and Georgetown's McDonough School of Business make up the rest of the top five.
Top MBA Programs by Specialty: International Business
1. Thunderbird                                  5.78
2. INSEAD                                          5.69
3. IMD                                               5.55
4. London Business School             5.45
5. Georgetown (McDonough)         5.39
6. IE Business School                       5.36
7. USC (Marshall)                             5.35
8. South Carolina (Darla Moore)   5.32
9. IESE Business School                  5.27
10. Cornell (Johnson)                         5.19