Macy's After Dark: What Happens When Shoppers Pull an All-Nighter?
Mike Dang and Logan Sachon and Jia Tolentino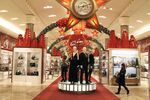 Earlier this month, Macy's, the second-largest department store chain in the nation, announced it would be keeping most of its stores open all night the Friday and Saturday before Christmas. To check out the early morning scene, Bloomberg Businessweek sent three reporters from the Billfold to various Macy's around the country.