Macy's After Dark: What Happens When Shoppers Pull an All-Nighter?
Mike Dang and Logan Sachon and Jia Tolentino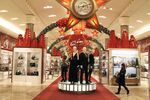 Earlier this month, Macy's, the second-largest department store chain in the nation, announced it would be keeping most of its stores open all night the Friday and Saturday before Christmas. To check out the early morning scene, Bloomberg Businessweek sent three reporters from the Billfold to various Macy's around the country.
Macy's Herald Square, New York, Saturday, Dec. 22., 12:20 a.m. East Coast Time

Outside the entrance to the 10-floor Macy's flagship outlet at Herald Square, two teenaged girls put down their shopping bags and pose for an iPhone self portrait in front of the illuminated storefront. They look at the photo and squeal with approval.
"We're here!" they yell and head inside.
This Macy's, once crowned the "World's Largest Store," opened at 7 a.m. Friday and won't close until midnight on Sunday. Many stores have extended hours in the days leading up to Christmas; Macy's has typically pulled one all-nighter, but this year's 64-hour continuous shop-a-thon is considered a first—and a bellwether. "If it works well for Macy's, I can guarantee it will be a trend next year," Dan Butler, vice president for merchandising and retail at the National Retail Federation, told Bloomberg Businessweek earlier this year.
It's a marathon, and not just for employees. A group of men has formed a motley congregation near a set of doors, all checking their phones. "She wants boots," one of them says. "They all want boots," says another.
The teenage girls head for the famous old wooden escalators, which, as legend has it (or at least, as a security guard told me), are maintained by one woman whose sole job is to keep the slatted wooden steps in top condition.
The escalators take the girls on a winding path upward through the store, the music changing as they ascend: a trancey hip-hop Little Drummer Boy on shoes, Jessica Simpson and Nick Lachey singing Baby, It's Cold Outside in juniors. Bedding, with a twinkling classical soundtrack, is deserted.
The girls get off on the children's floor and walk to the bustling McDonald's. They pass two black-clad employees straightening a display of stuffed animals, snow globes, and mugs, all emblazoned with the Macy's logo. A manager with a clipboard passes by. "You doing overnights?" he asks.
"All three, baby," one of them says. The manager whistles. "Keep it up," he says, and moves on.
•••
Macy's South Coast Plaza, Costa Mesa, Calif., Saturday, Dec. 22, 1:08 a.m. West Coast Time

During normal shopping hours, Macy's South Coast Plaza—the largest Macy's in the O.C. and located in an upscale shopping center trafficked by buyers from around the world—is swamped. After dark, with neighbors Prada, Dior, Yves Saint Laurent, and Oscar de la Renta closed for the night, the department store is eerily quiet. Staff outnumber shoppers, and some sections show no sign of life.
A handful of people are wandering around. Cassie Brooker, 30, and her husband John, 34, who reside in Santa Ana, found it difficult to shop during previous weeks because of their work schedules—she's a teacher, he works in an emergency room. Rayshandra Williams and her daughter, Bria Ruffin, who just turned 19, are here from Culver City, shopping for themselves and spending some quality mother-daughter time.
"We plan on staying until the sun comes up, but we're already getting tired," Ruffin says. "We got here at 10:30."
"We thought they would be a lot busier," says her mother.
Except for the novelty of being in a department store at such an odd hour, there's little to get excited about. The holiday-shopping frenzy that makes the malls crazy during the day is gone. It's a great time to shop. Employees are available and attentive, even eager to help. There are no lines for the dressing rooms or the bathrooms. There's plenty of room in the aisles. If only it weren't past my bedtime.
•••
Macy's South Coast Plaza, Costa Mesa, Calif., Saturday, Dec. 22., 1:44 a.m. West Coast Time

On the third floor, six baristas are manning a Starbucks counter overlooking an empty seating area. They're in good spirits, chatting about Christmas plans and work schedules. Leonard Cohen's Hallelujah plays softly overhead.
"We're not closing until 6 p.m. on Christmas Eve. But it's not busy like it was on Black Friday," says one barista, looking out onto the shopping floor. "We had a line of customers wrapping around the store. It's so dead right now."
Comparisons to Black Friday are inevitable. The 64 Hours Before Christmas come up short on chaos, enthusiasm and, quite possibly, sales. Absent nonstop hype and deep discounts, Macy's has attracted a different kind of shopper. The company said its all-nighters are designed for the convenience of its customers, but very few find the hours between midnight and 6 a.m. to be a convenient time to shop. Unlike the Black Friday shopper—ambitious, focused and competitive—the person who does Christmas shopping at 2 a.m., less than 72 hours before the holiday, is likely to be an insomniac procrastinator.
In Costa Mesa, a Macy's manager from the men's department walks over to the counter. "Hey guys, we're not allowed to talk to reporters," he says and walks away. The baristas look at each other and grow quiet. With no one talking, Leonard Cohen grows deafening.
•••
Macy's Herald Square, New York, Saturday, Dec. 22, 2:05 a.m. East Coast Time

The men's section has been carefully decorated to look like a Men's Section. The entrance has the feel of a festive-yet-sexy hunting lodge. Wooden beams across the top are festooned with lights that hang over plaid shirts and slim-cut raw denim. It's the only area in the store where male shoppers outnumber the women.
Slipping in and out of the clothes racks is Tyrone Burton, a janitor who lives in Manhattan. He's working the overnight shift from now until the store closes. He has worked at Macy's for 14 years and doesn't mind the hours. "Housekeeping is 24-7," he says. "If you don't work overnights, you're out of the game."
With gloves on, he sweeps up the dust behind distracted shoppers and moves trash off the floor and into the garbage bag on his cart. In Burton's eyes, overnight shifts are always the same, even when all these holiday customers are around. "They'll disappear at 3 a.m. And if they don't, you just work around them," he says.
For the employees, staying open means staying up. Watchful security guards, supervisors wearing three-piece suits, and the occasional police officer pace each floor. At the front of the store stand two men holding white plastic hats, adjacent to the Impatient Husbands Brigade but present for an entirely different reason: fire safety.
"See that?" says John Rossi, a dark-haired man from Westchester. He points to a huge, silvery wing to the right of the entrance. "They just finished that." He points left, to a wing whose scaffolding is shrouded in neutral hangings. "They were supposed to finish [that] by now, too," adds Bill Franklin, who hails from Long Island.
Rossi and Franklin are both working 11 p.m. to 7 a.m. They've been doing this for 18 months, supervising retail crowds whenever a store is working with new construction. "The worst-case scenario is an electrical fire, having to evacuate all these customers," says Rossi.
Franklin has never had a fire emergency occur on his watch, but Rossi has. "I probably shouldn't say where," he says. "Let's just say people aren't always very good at getting down the escalators."
•••
Macy's Herald Square, New York, Saturday, Dec. 22, 2:45 a.m. East Coast Time

Tim Zhang and Ramon Perez, from Long Island and the Bronx, respectively, stand outside the fitting room in the juniors section, waiting for their girlfriends. They're both sophomores at New York University, pre-med, and they've just finished their last final. It's been an exhausting semester—"Organic chemistry, man," Ramon wails mournfully—and the boys are trying to muster the energy to shop for their families before they go home tomorrow afternoon.
"I really should get some stuff," says Zhang, surveying the rainbow array of colored denim that surrounds him. "But I just don't even know where to start."
Zhang and Perez are part of a breakdance crew called Animal House, and two of their friends are doing flares in front of the cash register as the confused cashier folds sequined tank tops. Then suddenly, two girls are standing in the doorway of the fitting room, resplendent in trendy blue cocktail dresses. "Damn!" the boys say, applauding.
The girls are Anusha Jayaram, from Ohio, and Loriah Pope, from Texas. They too are NYU sophomores fresh out of exams, and—like Zhang—they're blowing off their familial present-buying obligations. "To be honest, this is pure retail therapy," says Jayaram. "It's pretty great that Macy's is open right now."
Ramon checks his watch. "Yeah, I mean, it's 2:45." Outside the Herald Square store, the city is alive with holiday revelers, but the group is keeping it low-key. "We'll probably get halal after this," Tim says. "Hang out for a little. Call it a night."
Downstairs, just a dozen feet from the Macy's entrance, the halal carts have already anticipated these post-shopping cravings. Two men operate identical carts, handing out kebabs to employees as they take their breaks and to customers exiting the superstore in need of replenishment.
One of the vendors, a green-eyed, stubbly man with a slight accent, shrugs when asked how his night is going. "Too slow," he says. Still, he'll be posted here each night until the store closes for Christmas. His first name is Mahmoud. His last name, he says, is "Michael Jackson."
•••
Macy's Westminster Mall, Westminster, Calif. Saturday, Dec. 22, 3:05 a.m. West Coast Time

The Westminster Mall is 10 miles northwest of South Coast Plaza, and the parking lot to the front entrance of the department store is nearly empty, save for three compact cars. A security guard is standing at the entrance with her palms pressed against the glass of a perfume cabinet, as if she's preparing to do wall push-ups.
"Yes, we are open," she says. "Please shop as much as you'd like, and take your time."
Had the parking lot not given away that there were going to be few shoppers in the store, the empty sections would have. Near a Ralph Lauren display, Carlos Macias and Melissa Moon, 24, both students who live in Westminster, were busy pulling shirts off of a sale rack.
"I'm only here because he can't sleep," Moon said stretching her neck toward Macias. "I don't know why we would be here if he could."
•••
SUNDAY
Macy's Lynnhaven Mall, Virginia Beach, Va., Sunday. Dec 23, 1:20 a.m. East Coast Time

It's early Sunday, about two-thirds of the way through this holiday shop-a-thon. Lynnhaven Mall in Virginia Beach, Va., has been closed for three hours and looks it. A few cars are parked in front of the main entrance and a police cruiser sits in a corner. At the backside of the mall, there's a sense of some life by the well-lit Macy's. There are clusters of cars, maybe a dozen at the entrance to the men's section, more at the women's. A family of three—mom, dad, teenage daughter, each holding large Macy's bags—walk to their car at the far end of the parking lot.
The mall is a 10-minute drive from the Atlantic Ocean and four minutes to Oceana Naval Air Station, home to F/A-18 hornets and Superhornets and the jet noise that, during daylight hours, is a sound-barrier-breaking reminder that Virgina Beach is a military town. This is a suburban store, the crown jewel of one-stop-shopping in a long stretch of strip malls and box stores.
Inside the store, it's quiet. Christmas music plays, and from any vantage point, one can see a few shoppers—a couple looking at watches, a woman feeling the scarves, another working a stroller around the maze of shoes. Employees with carts and baskets appear now and then from behind displays. The work being done now is recovery, facing, straightening. Employees are supposed to do this all day, continuously, but during the holidays, given the number of people unfolding sweaters, destroying stacks of gloves, picking up one item and leaving it somewhere else—it's a losing battle.
So now, in a nearly empty store, the employees straighten. If the store were closed, the work would go faster—there would be the promise of clocking out early, or at least not having to stay late. But with the store open, the work of restoring order is slow. There aren't very many customers right now, and it will be slow for several hours. The employees have all the time in the world. And the shoppers don't have anywhere they must be, either.
•••
Macy's, Lynnhaven Mall, Virginia Beach, Va., 3:24 a.m. East Coast Time

An employee—"I'd prefer to remain anonymous, but I only have good things to say about Macy's"—in black slacks, a collared shirt, and hat and scarf is leaning against the jewelry counter, looking over his break schedule. There are no customers to be seen.
It's his first Christmas season working retail. He looks alert—maybe even well-rested, considering he worked the same shift the night before. He went home, he said, slept a while, had coffee and vitamins, did his own holiday shopping, and came back to work.
He has never worked an overnight shift before ("I never thought I'd have to!") but he volunteered to do this shift and he's been happy with it. There's no extra money, just the extra hours. There is coffee and fruit in the break room—that's typical—and this time of year, there's been more food. It helps so much, he says, to grab a piece of fruit on break. Still, he'll probably go to McDonald's for his lunch, which is coming up at 4 a.m. The one in front of the mall is open all night.
He is a part-time permanent employee and usually assigned to men's clothing. For the holidays, he's been working in watches. It's better than selling clothes: "Helping people pick out watches is more personal, it's more than just ringing up their purchases." In the watch department, he also gets commissions, unlike the compensation in men's. Shoes, suits, fragrances, and watches are all commission-based in the store, he says. Will there be an opportunity to stay in watches after the holidays? "That's the hope," he says, smiling and lifting up his hands to show fingers crossed.
I wish him good luck and head for the exits. The same woman who was tidying the gloves when I walked in is still there—her work has made a difference, and the gloves look great. I say as much, and she smiles and says, "Why there needs to be this many styles of gloves, I'll never know."
For the most part, the employees don't seem to mind working these odd hours. Most are happy to have the extra money before Christmas. They'll use that money to do their own last-minute shopping, but it won't necessarily be here. We hear Toys R Us is also open 24 hours, and is just down the road.
•••
Macy's South Coast Plaza, Costa Mesa, Calif., Sunday, Dec. 23., 1:25 a.m. West Coast Time

This Macy's store redeemed itself in the early hours of Sunday morning, when a respectable amount of shoppers gazed at shoes, browsed through racks of dresses, and left tables of clothing in disarray. Robert Sanchez, a supervisor at Costco who lives in Santa Ana, got off work at 11 p.m. and immediately went to Macy's to finish Christmas shopping with his roommate.
"It's super busy at Costco, so it's hard to find time to get shopping done," he said. "I needed to shop for four people, and I have two people done so far. I'm tired, but nobody is rushing me here, so it's pretty good."
Sanchez says he loves the idea of Macy's being open all weekend and hopes the company will consider doing it again. "I just spent $200, and I'll probably spend another $200 before I leave tonight," he says. "And my roommate is planning on spending $500, so that's $1,000 for two people. The store's not full, but the store being open right now allowed two people to come in and spend, easily, $1,000."
Not everyone is willing to spend so freely. Near the east entrance of the department store, Viridiana Luna is looking for sale signs. Luna, 28, from Costa Mesa, says she was hoping to find dressy tops as a gift for her boyfriend's mother, but has come up empty-handed.
"I thought that there was going to be more of a Black Friday kind of atmosphere, with a lot of crazier deals, so I'm kind of disappointed," she says. "If I don't see anything I like, I'm just going to postpone buying gifts."
An hour later, at the Macy's Irvine Spectrum Center, 11 miles southeast of South Coast Plaza, the 108-foot tall, Italian hand-crafted Ferris wheel is still, its 12,500 lights dark. There are no people around to brave a ride, and no people around to shop either. The employees inside walk around, determined to find something to do. Two employees in the home department puzzle over a display. An employee in the men's section is combing racks for stray hangers.
"Good morning, sir!" the workers say cheerfully as I circle around the store.
In a city that never sleeps, restless New Yorkers will always find a reason to go shopping in the dead of night. Customers in sleepy suburban areas may need more motivation to get out of bed and open their wallets. They need doorbuster specials, huge discounts, and can't-miss promotions—they needed Black Friday Part II. The problem with sequels, though, is that they often struggle to live up to expectations.
Before it's here, it's on the Bloomberg Terminal.
LEARN MORE