The Single Best Must-Read
by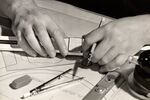 There's no better way to understand the world than charts.
—Matthew Boesler, "Wall Street's Biggest Geniuses Reveal Their Favorite Charts Of 2012," Business Insider, Dec. 21, 2012
Single-Best Chart is the franchise of Sara Silverstein and Scarlet Fu. They smarten up Bloomberg Surveillance with Euclidian clarity.
The primal scream of global Wall Street is more charts, less blah-blah-blah. Ed Hyman and Nancy Lazar copyrighted this at ISI. David Malpass, of Encima Global, is chart smart. Michael Darda, of MKM Partners works—he works—at informative chart construction. Louise Yamada searches for "distribution."
I'll cut to the chase.
The annual Business Insider chart-a-thon is beyond valuable. Ritholtz on the quiet of Wall Street; Achuthan on recession reaffirmation; Brown on what we missed; Minack on your problem … and even my quick take on Anxious America. My colleague Michael McDonough briefs on the number of times I say "fiscal cliff."
The visualization of this December moment-in-time has just been handed to you on a silver platter.
Rosenberg, Galy, O'Neill, Wien, and 60+ others make for the single best must-read. Discuss.
Before it's here, it's on the Bloomberg Terminal.
LEARN MORE