Government Surplus: Cheap Stuff From Uncle Sam
by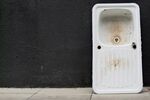 Chesapeake Bay waterman Doug West had been pining for a second boat for his business transplanting oysters for the University of Maryland's Horn Point Laboratory Oyster Hatchery. But he figured the kind of sturdy, shallow-bottomed, crane-equipped craft he needed would cost around $75,000, a steep investment for a self-employed contractor with about $100,000 in annual revenue.
In October, he found a half-price alternative: He successfully bid $36,000 for the 65-foot U.S. Coast Guard Cutter Blackberry, which was built in the 1940s. Because she had been well maintained and frequently refurbished, he only had to scrape and repaint the bottom before putting her to work. "The lab is ramping up production, so I hope to double my activity in the future, and deals like this one don't come along all that often," says West, who transplanted upwards of 600 million hatchery-bred oysters in 2012.
He is one of 90,000 active buyers on Government Liquidation, a website that sells surplus vehicles, equipment, and scrap metal for the U.S. Department of Defense. The Great Recession prompted a spike in entrepreneurs across industries using the site to hunt for deals for existing operations and new ventures, says Tom Burton, a president at Liquidity Services in Washington, D.C., which operates the site as well as seven other government and private liquidation marketplaces.
Opening bids for every item, including Navy warships, start at $50 to $150. "We have half a million items in 650 categories, everything from musical instruments to kitchen sinks," says Burton. "We are a small business incubator: If you've got an idea, this is a place you can come and see if you can turn it into a business opportunity."
Henry Williams discovered the auction site in 2001, when he retired to Holualoa, Hawaii, and started his 8-acre Seven Stars coffee farm. "I found I could buy pumps, mowers, and good-quality military stuff that was hardly used. I paid $100 for two water pumps that probably would have cost me $1,200 or $1,400 each," he says, estimating that he has purchased $50,000 worth of equipment from Government Liquidation over the past decade.
Shortly after buying on the site, he began selling items to neighboring farmers who didn't want to navigate the online auction process, supplementing his retirement income and the $60,000 his coffee business generates annually, he says. Prices for used equipment are around one-quarter of the cost of new equipment, he estimates, adding that his best deal to date was his $1,500 purchase of a 5-ton truck that would sell for $87,000 new. "I've never bought anything that was completely broken. Once in a while something will go wrong, but I can tinker with it and get it going," he says.
The Government Liquidation site didn't mean lights out for Dana Collins's 40,000-square-foot Army Surplus Warehouse in Idaho Falls, Idaho. Until the site was launched in 2000, he'd been primarily buying surplus military goods by attending auctions on military bases across the country. Around the time the site was launched, Collins figured he and his 30 employees would be run out of business. "Me and the other old guys told [the Defense Logistics Agency] if they started putting stuff on the computer, we'd be finished," he says. "I sure am glad they didn't listen to us; I can make more money sitting here in my underwear than I ever used to when I had to travel all the time and stay in motels."
Ken MacNevin, a spokesperson for the federal government's Defense Logistics Agency, which supplies the military and deals with excess inventory, says the amount of material flowing through it has increased in recent years. He cites "the operational deployment of the U.S. military around the world, the pace of their training for Iraq and Afghanistan, and the pace of change in so many things that has led to shorter periods of time before something is considered obsolete."
Williams has seen the site's popularity grow: When he first started using it, he was often the only bidder on choice items. Now, he says, word has gotten around and he sometimes battles other bidders for hours after an auction officially closes: "You just have to sit there and wear the other guy down. That's free enterprise, isn't it?"
Before it's here, it's on the Bloomberg Terminal.
LEARN MORE