Europe's Leaders See Growth; Business Prepares for the Worst
by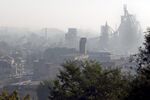 Europe's leaders are starting to talk, cautiously, about economic recovery. "Growth is expected to pick up in the second half of 2012 and gather speed in 2013," Olli Rehn, the European Commissioner for Economic and Monetary Affairs, wrote in a Dec. 10 column in the Financial Times.
Sounds encouraging—but Europe Inc. isn't buying it. From steelmakers to shampoo sellers, companies across the region are hunkering down for what they predict will be years of stagnation.
In the latest show of pessimism, on Dec. 21, Luxembourg-based steel group ArcelorMittal took a $4.3 billion writedown on its European units. Steel demand in the region has already declined 29 percent since 2007, the company said in a statement. "This weaker demand environment, and expectations that it will persist over the near and medium term, led to a downward revision of cash flow expectations."
Fiscal cliff or no, the U.S. looks a lot more attractive than Europe does to ArcelorMittal. U.S. steel consumption is up almost 8 percent this year, vs. an 8 percent decline in Europe, where the company books half its sales. The writedown amounts to "a negative read on the whole European steel market," London analysts at UBS Investment Research said in a note after the announcement.
The message was much the same for Paris food group Danone on Dec. 13, when it announced plans to slash costs in its European operations by $262 million over two years, to address "a lasting downturn in the European economy." Besides "adjusting costs to this new context," the company said, it will reconfigure its "management organization in Europe, which was designed for a growth environment."
Such business decisions contrast sharply with the cautiously optimistic projections coming from government officials in recent weeks. France's national statistics agency Insee has forecast "slight recovery" in that country during the first half of 2013, while Italy's central bank sees a return to growth during the second half of the year. Spain says it expects an uptick in 2014.
On closer inspection, though, those forecasts don't give much reason for cheer. France's Insee, for example, predicts quarterly growth of only 0.1 percent during the first half of 2013, after shrinking 0.2 percent in the current quarter. Insee also says unemployment is likely to reach 10.9 percent next year, up from the current 10.7 percent.
Spain's official growth projections are widely dismissed as fantasy. A Bloomberg survey of 18 economists sees the Spanish economy contracting 1.5 percent next year, three times the government's forecast 0.5 percent. If Prime Minister Mariano Rajoy has to request a European bailout, the likely austerity measures that would be required would intensify the contraction.
Small wonder, then, that corporate Europe is playing it safe. "We are in for at least 10 years of slow economic growth in Europe," Paul Polman, chief executive of Anglo-Dutch consumer goods giant Unilever, told Bloomberg News in a Dec. 12 interview. "If you run a business like mine and don't assume that, you are fooling yourself. I hope for the benefit of Europe I am proven wrong, but even then we are in a better position by taking that as our starting point."
With reporting by Matthew Boyle
Before it's here, it's on the Bloomberg Terminal.
LEARN MORE