A New Tanning Salon Lobby Asks: What Cancer Risk?
By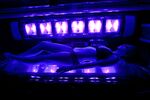 It's a dark time for the indoor tanning business. First tanning salons were singled out for a special tax in the health reform bill. Then California and Vermont made it illegal for them to serve people under 18. The bans follow a 2009 decision by the World Health Organization to label indoor tanning devices "carcinogenic to humans."
Enter a new trade group for salon operators, the American Suntanning Association, that wants to "combat myths" and counter "misinformation" about tanning risks, according to a news release introducing the group. "The science itself hasn't really entered into the discussion," says Doug McNabb, owner of Fabutan Suntan Studios, a chain based in Calgary, in Alberta, Canada (most of the association's members are in the U.S.). "It's really been a subjective emotional process, in our opinion."
So what myths is the industry trying to bust? McNabb says the World Health Organization's conclusion, based on a review of 19 studies, that using tanning devices increases the risk of melanoma by 75 percent in people under 30 is wrongly linked to commercial tanning salons. Nearly all of that increased risk, McNabb says, comes from people referred to medical phototherapy for skin conditions such as psoriasis, or people using tanning beds at home. When looking just at people who went to commercial tanning parlors, McNabb says, you get "a statistically insignificant" increased risk of 6 percent.
As evidence, he sent me two pages of research that reexamines the WHO data. Of the 19 studies WHO reviewed, four had data on where people used tanning devices. Looking at just those four shows the lower risk levels that McNabb cites. The authors of this analysis hail from Chappelle Toxicology Consulting (which helps clients "seek product approvals for global and regional markets") and the Sunlight, Nutrition, & Health Research Center (which aims to provide information on "ultraviolet radiation, solar and artificial, as an important positive health factor"). Funding was provided by a group called the Vitamin D Alliance, which McNabb says is a nonprofit that gets funding from tanning salons.
Academic researchers and public health authorities say the evidence of cancer risk tied to ultraviolet rays, from the sun and artificial tanning lamps, is clear and growing. In addition to the World Health Organization, the Centers for Disease Control, the Food and Drug Administration, the National Cancer Institute, and the American Academy of Dermatology all warn about the risks associated with indoor tanning. The FDA, which regulates tanning lamps and beds, is considering strengthening its rules in light of "the growing body of information related to the association of UV light and permanent skin changes including skin cancer," spokeswoman Michelle Bolek says in an e-mail.
The indoor tanning industry has a lot at stake. Made up of about 19,000 businesses in the U.S., IbisWorld estimates it to be a $5 billion annual market, and the science isn't moving in the industry's favor. A review of 27 studies published this year in the British Medical Journal concluded that the risk of melanoma tied to indoor tanning is real, it increases for people under 35, and "the cancerous damage associated with sunbed use is substantial and could be avoided by strict regulations."
"Just about all the associations [between tanning and cancer] are getting stronger," says DeAnn Lazovich, a researcher at the University of Minnesota's School of Public Health who has studied tanning. "Basically, the more exposure you have, the greater your risk." Lazovich says artificial tanning, which is most prevalent among white women under 30, increased the frequency of melanoma from 13 cases per 100,000 to 23 cases per 100,000 in her analysis, which looked at whites under 65.
McNabb says the trade group favors allowing teenagers to tan with parents' consent. When pressed on a cutoff age, he said the group has no official position. "There really isn't a line," McNabb says, noting that such questions are based "on the presumption that what we hear [about the risks of tanning] is correct."
Well, yes. The tanning industry isn't the first to have a business model run up against science. Perhaps further research will bear out the idea that commercial tanning salons alone, unlike other sources of UV rays (including the sun), pose no significant risk of cancer. The study McNabb referenced is "in the process of being published," he says. "We think the first step is to have a higher level of discussion around the actual science."
Before it's here, it's on the Bloomberg Terminal.
LEARN MORE