What Should I Do With My Money?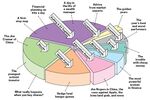 Most people earn a paycheck by getting good at something, and then, gradually, getting paid more and more to do it. Investing is different, the opposite almost. It's the art of discerning who else is good at something—whether it's the executive running the company whose stock you've picked or the planner who told you to buy it. This may explain why so many who are geniuses in their fields are so bad at making financial decisions. For this issue, we focused on people who make a living assessing the performance of others: those who pick hedge fund managers, unseat directors, run financial institutions, and more. We asked their advice, and we tell their stories. Learning how they tick will help you think about where to put your money in 2013.
Before it's here, it's on the Bloomberg Terminal.
LEARN MORE