They Will Throw the Book at Facebook
By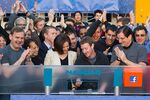 The details emerging from the consent order may also add ammunition to dozens of class actions, which a judge ordered to be consolidated earlier this month. The testimony disclosed by Massachusetts could be used by prosecutors attempting to make a case that Facebook and Morgan Stanley misled investors. …The real liability for Facebook and Morgan Stanley is yet to come.
—Erik Gordon, clinical assistant professor at the University of Michigan, Stephen M. Ross School of Business, in Ari Levy and Douglas Macmillan's Morgan Stanley Case Exposes Facebook to Similar Challenges, Bloomberg News, Dec. 19, 2012.
The year 2013 is so "is yet to come."
A careful reading of the succinct Levy and Macmillan report suggests the Commonwealth of Bill Galvin is the proverbial tip of the iceberg.
I, and others of the Cult of the Red Herring, have never seen anything quite like the Facebook very loud Quiet Period.
In the olden days, a Red Herring was a pre-initial-public-offering printed document. It was read/skimmed before the dog-and-pony road show where deal bankers and muzzled executives jumped through hoops to be less enthusiastic about Amalgamated Chin Strap Inc. The lead banker's Hinckley Bermuda was named Indications of Interest.)
Two of 40 in the room read the cash flow statement (that would be me). Fifteen of 40 tried to figure out what the "pop" would be and could they turn the shares inside of six weeks. Twenty-three of 40 were looking for a free lunch and just wanted to know what Fidelity was planning to do.
There were sometimes 10 presentations in a week.
If the above is jargon-laced, that's because it is and was. The IPO process was an ordered world unto its own that had prescribed rules of the road.
This year, 2012, was different. The dog-and-pony act became an unruled carnival.
I am not in the prediction business but must suggest a moment of December silence for the 2013 and 2014 and … that Facebook will face. And they may lose millions of dollars of face.
William F. Galvin, secretary of ahead-of-the-curve, has first-mover status. Others will follow.
They will throw the book at Facebook. Discuss.