Jim Rogers on China: Keep the Faith
Never mind the slowdown, his kids are still learning Mandarin
by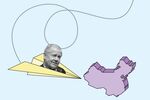 It was a rough year for China bulls like Jim Rogers, who as an author and investor has long championed the world's No. 2 economy. In 2012, China endured a series of corruption scandals involving princelings such as Bo Xilai, the purged party boss of Chongqing. At the same time high-profile fraud allegations aimed at Chinese companies shook investors' confidence. Growth slowed as the country's exporters felt the pinch of slumping demand in Europe. The Shanghai composite benchmark index was down about 2 percent as of Dec. 18, among the world's worst performers for the year.
All that wasn't enough to discourage Rogers. In 2007 he moved to Singapore with his wife and two young daughters so the girls could learn Mandarin and attend Chinese-language schools. His advice: Stick with the country but be patient. Very patient. "People who sold America in 1912 may have looked good for a while, but over the next 90 years or so they looked pretty foolish," says Rogers, 70, who co-founded the Quantum Fund with George Soros in 1973. "That's my view of China."
The Bo Xilai affair and other corruption cases don't bother Rogers; he says he's glad China's leaders are doing something about graft. "Before I cast stones at the Chinese way, we all have to examine the American way," he says. "There have been pretty serious disasters in the U.S. in the past 10 years, and nobody at a reasonable level has been prosecuted, much less gone to jail."
That doesn't mean Rogers sees a big bounce in 2013. He says he's bought Chinese shares only a few times over the past 13 years—in 1999, 2005, and 2008—and he's not buying now. He isn't selling, either. His China strategy "is different from any other investment I have," he says. Eventually his Chinese holdings will prove valuable, albeit most likely long after he's left the scene. "My children, someday 50 to 80 years from now, will say, 'He must have been a smart old man. Look at all this money we have from those shares.' "
Before it's here, it's on the Bloomberg Terminal.
LEARN MORE