Home Prices Jump, and Other Signs of a Recovery
by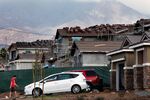 A year ago the housing market was still stuck in a hangover from the credit bubble bursting. This year is ending on a more positive note.
At the most basic level, home values are rising. The National Association of Realtors said Thursday that the U.S. median home price rose 10.1 percent over the past 12 months and inventories fell to the lowest point in 11 years. In November "national home values were down 19.4 percent from their peak in May 2007 and up 5.3 percent from the post-recession trough in October 2011," according to the real estate website Zillow. Markets that previously had a lot of foreclosures, such as California, have seen the biggest price increases this year. California has seen home prices climb 25 percent in the past year. That's because with banks foreclosing on fewer homes, fewer lower-priced properties are hitting the market. Nationally the decrease in foreclosures has contributed to a 17 percent decline in inventory over the past year.
While supply is down, there's lots of pent-up demand. Many homeowners or renters delayed purchases in the downturn for a host of reasons—tight credit, uncertainty, or being stuck in a home they couldn't sell for more than the balance on their mortgage. "Think about what happened to your life in the past seven years," Toll Brothers' Seth Ring told me this summer. "I got married and had two kids. Your life's needs may outweigh your trying to buy at the bottom of the market." At the same time the population kept growing.
That's all good news for homebuilders. New-home starts dipped slightly in November, but they were still up 27 percent in the first 11 months of this year compared with the same period in 2011, and applications for building permits have hit a four-year high. Starts and permits are both leading indicators that show homebuilders, who say they're confident, are getting back to building in a meaningful way. Builders are hiring again, my Bloomberg News colleague Jeff Kearns reports, and that's good for the economy. As Calculated Risk sums up, "residential investment is now making a positive contribution to GDP growth."
A lot of these year-over-year changes are so big because they were coming off such a severely down market. And plenty of potential problems could go slow the momentum. All told, though, the housing market seems well on its way to recovery.
Before it's here, it's on the Bloomberg Terminal.
LEARN MORE