Blue Moon's New 'Ale' Is Half Wine
By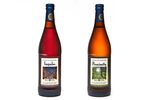 Just the idea of a beer-wine hybrid raises so many questions. OK, really, just one: Is that as disgusting as it sounds?
Armed with two bottles of Blue Moon's new Vintage Ale beer-wine hybrid—coming soon to stores in all 50 states—two of my colleagues and I sat down for a taste test. The red version is called Impulse. It looks like cranberry spritzer. It smells like beer, with a hint of wine. Or wine, with beery notes.
Either way, eventually you'll get drunk. At 51 percent beer, 49 percent wine, the new products are 8.5 percent alcohol by volume—more than the average beer, but less than wine. The genius behind them is Keith Villa, the founder of Blue Moon Brewing, now part of the SABMiller empire, who has been working on these alcoholic "ligers" for 17 years, he says. But the alcohol market circa 1995 was still in the middle of a Zima bender, and Villa shelved his idea until 2006. Since then, some of his beer-wine experiments (the Chardonnay Blonde and Vintage Blonde Ale) have won medals at the Great American Beer Festival and the World Beer Cup—though, it's worth noting, they were not this year's batch of Impulse or the white version, called, mysteriously, Proximity.
One thousand barrels of Impulse and 1,000 barrels of Proximity—about 313,000 bottles total—will be offered at specialty craft beer stores and restaurants nationwide for about $10 per bottle. The target consumer: adventurous wine drinkers.
Here's what Businessweek.com's beer reviewers had to say about Blue Moon's Vintage Ale hybrids.
Will Halsey, beer snob
Score: 3 out of 10
The smell reminds me of cheap college beer left in the sun all day that someone spilled Welch's in. Or watered down Ocean Spray. It's a laughable try at what many craft brewers are already doing really well. This is really only an option for drinkers who want to buy a fancy-looking bottle, but still crave Coors Light. It has more alcohol by volume, but if you just want to get hammered, buy a 40. Bottom line: It does not have the taste of either good wine or good beer. The real question is, who is their audience?
Jared Keller, thirsty guy
Score: 7 out of 10
Tastes like Manischewitz tinged with seltzer. This isn't a necessarily a bad thing … but it's not a good one. It's bad enough to shock the wine expert but tasty enough to entrance the amateur. So months of novelty chugging could give way to a more delicate palette. It also could make a great gag gift between fraternity brothers, which will inevitably become a drink consumed out of sheer novelty. (Bag-o-wine Franzia should watch out.) Bottom line: This is a necessary evil for the next generation of boozehounds to develop good taste.
Hey, not everyone appreciated Blue Moon at first either. "Many people who have tasted the Vintage Collection fall in love with it, but we fully recognize that it's a new approach to beer and may not be for everyone," says Villa. Blue Moon is not alone in this effort: Portland (Me.) brewer Allagash makes a Victoria Ale with Chardonnay grapes, and Milton (Del.) craft beer maker Dogfish Head offers a Noble Rot using viognier and pinot gris grapes, for example (both received good ratings on BeerAdvocate.com). Purists of any vintage, beware.
With Jared Keller and Will Halsey