The Debate Over Divvying Up Hurricane Sandy Relief Money
By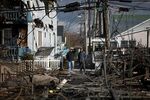 In the immediate aftermath of Hurricane Sandy, federal lawmakers from both parties were quick to heap words of compassion upon the storm victims. Now those politicians are debating how much taxpayer money to put behind their rhetoric. The Federal Emergency Management Agency's disaster relief fund barely adds up to $6 billion. So the Senate and the White House are each proposing to give New York, New Jersey, and Connecticut a combined $60.4 billion in emergency funding for disaster aid, about $20 billion less than what the states have requested.
The money in the Senate's bill, being debated this week, would pay for everything from FEMA trailers to reconstruction of U.S. Coast Guard facilities. The U.S. Department of Veterans Affairs would get $236 million to renovate the flood-damaged Manhattan Medical Center, and another $1 million to fix up three national cemeteries in New York and New Jersey. There's $412 million for restoring coastal ecosystems and a pot of money to help disaster victims pay for child care. People with damaged homes or businesses would be able to apply for $812 million in loans for rebuilding their properties. Senator Chuck Schumer (D-N.Y.) estimates that Sandy damaged or destroyed 305,000 homes and that 270,000 small businesses were shuttered in New York alone.
In some cases, the Senate wants to be a lot more generous than the Obama administration. Senate Democrats would give $336 million to Amtrak. Schumer says that's how much the perennially cash-strapped railway needs to repair damage wrought by Sandy. It's 10 times as much as the White House is requesting. For road and bridge repairs, the amount of money the Senate wants to set aside is three times the White House's ask.
Some conservative groups are crying pork. They say the federal government risks a repeat of what happened after Hurricane Katrina, when public funds fell into the wrong hands. President Obama's aid request is an "act of willful fiscal negligence," reads a post on the website of Heritage Action for America. "Much of the funding goes toward superfluous programs that have no direct relation to Hurricane Sandy." According to the group, the majority of the emergency funds being requested aren't going to be spent until 2014.
While there's certainly an opportunity for waste and abuse in an aid package as big as this one, it's worth noting that not all the taxpayer money would be spent just to put things back the way they were before disaster struck—which is actually the standard under current rules for receiving FEMA funding. Democrats want to spend billions of dollars upgrading infrastructure so it can withstand a future superstorm. The Senate proposes $3.5 billion, an amount disaster experts say is a fraction of what it would take to hurricane-proof a large metropolitan area. The debate over these particular funds could be the most difficult for lawmakers, and its outcome the most lasting.
Before it's here, it's on the Bloomberg Terminal.
LEARN MORE