Who Eats at McDonald's on Christmas?
by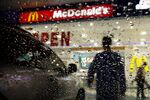 After seeing the results from having kept numerous locations open on Thanksgiving, McDonald's wants franchisees to do the same on Christmas Day. It does raise the question: Who wants a Happy Meal on Christmas?
Those with few better options, for starters. "It's probably people who are stuck on the road, traveling to family," says Peter Saleh, restaurant analyst for Telsey Advisory Group. "If you're open and other people are not, you tend to get more business."
It's a big pool. Roughly 93 million Americans will journey 50 miles or more during the week leading up to New Year's Eve, according to AAA spokesman Robert Sinclair Jr. AAA doesn't break out the numbers for Dec. 25, and while many will certainly have arrived at their destination by then, Sinclair isn't surprised at the notion that travelers could make up the bulk of McDonald's Christmas clientele. "McDonald's is one of the greatest beneficiaries of the expansion of the U.S. highway system," he says.
Internal McDonald's memos detailing the holiday push were leaked to Advertising Age. "Our largest holiday opportunity as a system is Christmas Day," reads a memo from McDonald's USA Chief Operating Officer Jim Johannesen. "Last year, [company-operated] restaurants that opened on Christmas averaged $5,500 in sales."
Spokeswoman Lisa McComb says 1,200 more McDonald's locations stayed open this past Thanksgiving than did last year, which means the company brought in about $72 million in additional sales. The boost certainly contributed to the company's surprising 2.5 percent sales increase for November, following a 2.2 percent drop in October. If McDonald's does the same level of business on Christmas Day, it will see a fourth-quarter jump of $144 million. McComb says the restaurants' owner/operators decide whether to open on Dec. 25.
As for those who wind up at McDonald's on Christmas, they have at least one thing to look forward to: The McRib, a perennial favorite, will be back.
Before it's here, it's on the Bloomberg Terminal.
LEARN MORE