On Mexico Bribes, Wal-Mart Committee Must Judge Its Leaders
by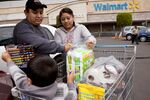 Few boards can match the prestige of Wal-Mart Stores, or the pressure of being on its audit committee. The five members on that committee are overseeing the investigation of alleged bribery payments in Mexico, as well as any subsequent cover-up. That task was made all the more complicated on Dec. 17 with a New York Times article that chronicles how executives in Mexico reportedly paid bribes to alter zoning maps in the historical city of Teotihuacán, among other things. This comes at a time when the world's largest retailer faces questions about its labor practices, its stepped-up push to sell assault rifles, and possible corruption in Brazil, India, and China.
The audit committee isn't there to judge on such matters. That's what organizations like the Securities and Exchange Commission or Justice Department are supposed to do. The commitee's job is to gauge whether Walmart's leaders are acting in the interest of shareholders by having the right controls, the right people, the right attitude and the right response when things go wrong. As Walmart spokesman David Tovar noted in a statement issued in response to the article, the allegations involve events that date back as far as 2003. What makes this currently important is who was running international operations when those allegations came before senior management: Mike Duke, now chief executive officer.
The most critical question is why Duke—and former CEO Lee Scott, who sits on the board—didn't order an independent investigation or alert authorities when they were told of possible bribery in 2005. (Such actions came only in late 2011, when the Times' investigation was underway.) Why did they ask the man running Mexico to look into it before dropping the matter? How has Duke handled subsequent bribery allegations and how has he communicated with the board? For U.S. companies, few areas of the law are more clear: Bribing anyone is illegal under the Foreign Corrupt Practices Act.
There's no question that Walmart has better controls now, from a beefed-up compliance department to mandatory training sessions for thousands of employees. What about the mindset at the top? Has Duke's commitment to growth come at too high a cost for employees and communities? Duke says "no." As he told Bloomberg LP President Dan Doctoroff  in a Dec. 12 interview at the Council of Foreign Relations, the company pays competitive wages. And as my colleague Susan Berfield chronicled in her cover story on the company this week, some workers disagree.
Is Walmart's commitment to expand the availability of assault rifles a boon for its bottom line—or a blow to its reputation? (The Nation reported on Dec. 17 that the Bushmaster AR-15 assault rifle used by mass murderer Adam Lanza in killing 27 people in Newtown, Conn., is sold in 1,700 Walmart stores nationwide, although the company pulled it off its website on Dec. 17.) Having pledged to adopt stricter policies, where does Duke stand in the gun control debate? How does his leadership in sustainability extend to more civic-minded matters such as public safety? How is Duke dealing with these difficult issues and communicating his strategy to the board?
These are weighty questions for every Walmart director to weigh. They're of particular relevance to Christopher Williams, James Cash, Aida Alvarez, Arne Sorenson, and Timothy Flynn, the five members of the audit committee. Williams, the CEO of Williams Capital Management and the committee  chair, may already be somewhat familiar with the events because he joined the board in 2004. Sorenson has to balance his audit committee responsibilities with the daunting day job of being CEO of Marriott Hotels. Cash is a former Harvard Business School professor who serves on the boards of General Electric and Chubb, along with performing consulting work. Alvarez, a former chief of the Small Business Administration, is well-regarded and also busy with numerous commitments. Then there's Flynn, the former head of KPMG, who joined in late July to help tackle issues related to governance and integrity.
Their mission is less to be a guide for management than a guardian  for shareholders. That doesn't mean an atmosphere of acrimony is required. But as fresh evidence from Mexico raises further questions in the minds of shareholders, directors must accelerate their efforts to find answers.
Before it's here, it's on the Bloomberg Terminal.
LEARN MORE