Newtown Fallout: Cerberus Retreats From Guns
Move Doesn't Necessarily Portend Dent in Firearm Sales, However
By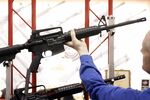 While President Barack Obama and other Democratic politicians clear their throats about proposing new gun control laws sometime next year, the marketplace is responding swiftly to the Newtown, Conn., elementary school massacre.
Dick's Sporting Goods, one of the largest retailers in its industry, said Tuesday it is suspending the sale of certain military-style semiautomatic rifles similar to the one used by the Newtown killer. Fox News reported that Discovery Channel has decided to cancel its popular reality show, American Guns.
Less visible to consumers, but no less important, Cerberus Capital Management, a $20 billion private-equity firm based in New York, announced overnight that, under pressure from the California teachers' pension fund, it will sell its controlling stake in the country's largest guns-and-ammo manufacturer, a conglomerate called Freedom Group. The semiautomatic rifle used to slaughter 26 people at Sandy Hook Elementary School, 20 of them children, was made by Bushmaster Firearms, one of the companies operating under the Freedom Group umbrella.
The California State Teachers' Retirement System, which has $751 million invested with Cerberus, said it would review its relationship with the private-equity firm, "given the tragic events last Friday in Newtown, Conn." Cerberus then followed with its announcement, saying that unloading Freedom Group "allows us to meet our obligations to the investors whose interests we are entrusted to protect without being drawn into the national debate" on gun control.
Bloomberg TV's Tom Keene asked me this morning on his Surveillance program whether this the beginning of something akin to the divestment campaign aimed at breaking South Africa's apartheid system. That's a provocative question. The answer is probably no, and the reasons shed light on the nature of the American gun market.
Gun ownership in the United States is not apartheid. Millions of Americans relish firearms and use them for lawful hunting, shooting sports, and self-defense. To many people, guns represent individualism and self-reliance. The U.S. Supreme Court has interpreted the Second Amendment as protecting an individual right to keep a handgun in the home. Forty-nine states allow people to carry concealed guns. A federal appeals court recently said that the sole holdout, Illinois, violated the Second Amendment by prohibiting concealed carry.
The $2 billion American gun industry is not the South African economy. The gun market historically has been fragmented, made up of relatively small companies. It consolidated in recent years, driven largely by Cerberus's having bought companies such as Bushmaster (as well as Remington, Marlin, and Para USA) in hopes of squeezing redundancies from their operations and selling off the roll-up in an initial public offering. To Cerberus's frustration, the IPO stalled for reasons that have nothing to do with Newtown. (Finding efficiencies and cross-marketing opportunities turned out to be more difficult than the private-equity gurus anticipated.) Now, Cerberus will use the cover of renewed controversy over gun control—and the suddenly shocked sensibilities of the California teachers pension-fund managers (from whom Freedom Group's business presumably had not been kept a secret)—to dump a guns-and-ammo play that wasn't working out smoothly.
There are personal elements in play, as well. Stephen Feinberg, who founded Cerberus in 1992, is an avid hunter and gun enthusiast; his father, Martin Feinberg, lives in Newtown and told Bloomberg News that the shooting was "devastating."
Cerberus's move—and the prospect that the companies within Freedom Group will get sold off individually or in small clumps—will return the ordinarily fractious gun industry to something closer to what it looked like a half-dozen years ago. Smith & Wesson and Sturm Ruger, the two publicly traded gun makers in the U.S., will stand a little larger in relative terms. Glock, Beretta, and Taurus will continue to import guns from, respectively, Austria, Italy, and Brazil (as well as assemble weapons in their U.S. plants). And overall, gun makers will likely enjoy increased sales over the next six to 12 months, as consumers buy additional pistols and rifles out of fear that their favorites might be more difficult to obtain if Democrats succeed in pushing through new restrictions.
There will be additional post-Newtown reaction from retailers and from Hollywood. Wal-Mart is a major gun seller. It accounts for about 13 percent of Freedom Group's sales, for example. The world's biggest retail chain will doubtless come under pressure from anti-gun activists to curb its firearms sales, and the image-conscious company may follow its more specialized rival, Dick's.
In the entertainment world, the cable channel TLC has already delayed airing a show called Best Funeral Ever. Violent movie trailers might get postponed or edited. The massacre during a showing of The Dark Knight Rises in Aurora, Colo., in July prompted Warner Bros. to pull the trailer for the forthcoming Gangster Squad, which depicted a theater shooting. Later the studio cut the scene entirely.
Whether marketplace behavior will change over the long haul is a different question. Gangster Squad's opening was delayed but not cancelled. The film, pitting organized crime killers against police in Depression-era Los Angeles, is now slated to open in theaters next month, and it will still include plenty of gunplay.
Before it's here, it's on the Bloomberg Terminal.
LEARN MORE