Holiday Commercials That Just Won't Die
by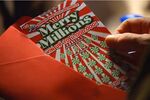 Endless repetition is one surefire way to make your business memorable, if not loathed. (Maxwell, Geico's shrill pig, and Flo, the upbeat Progressive Insurance girl, are really testing our nerves right now.) But some holiday-themed commercials have done the unthinkable: They've been on air so long that viewers have grown attached to them.
Folgers Christmas Homecoming (1985)

This coffee ad, which shows a son returning home for Christmas, first aired from 1985 to 1994 and then returned from 2005 to 2007. Folgers's modernized remake, in which a backpacker son comes back from volunteering in West Africa, has been airing since 2009 (although some viewers say the siblings in the new ad seem uncomfortably—even creepily—close).
Before it's here, it's on the Bloomberg Terminal.
LEARN MORE