Covering Tragedy: Newtown Tests Online News Policies
by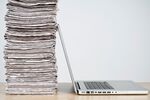 On Monday afternoon, visitors to ABCNews.com who wanted to learn more about the latest news on the tragedy in Newtown, Conn., had a range of Web video options to choose among. But before they could watch, say, "Newtown Shooting: Teachers and Parents Turn to School Security," visitors had to first sit through a playful ad for skin-care products. At CBSNews.com, watching "60 Minutes Reports: Tragedy in Newtown" came with a pre-roll pitch for insurance. On Yahoo! News, a video for "Newtown: Mourning and Grief" was coupled with an ad for batteries.
The juxtaposition of heart-wrenching news coverage with cheery holiday jingles can be particularly jarring online, which is a more active viewing experience—and a more intimate one. Also, without the presence of an anchor to ease the transition from news to advertising and back, the viewer can be watching singing dogs one moment and crying children the next.
This represents a tricky and growing challenge for news organizations. According to EMarketer, online video is the fastest growing category of Web ads; spending is expected to skyrocket from $2.93 billion in 2012 to $8.04 billion in 2016. When disaster strikes, be it a mass shooting, a terrorist attack, or a deadly storm, broadcasters attempt to strike a balance between making money from the surge in online viewers and managing advertisers' reluctance to be seen alongside tragic news. In the worst-case scenario, the broadcaster and advertiser end up repelling the viewers they most seek to court.
While some brands (such as airlines) have contractual stipulations to halt their ads from appearing before videos about a tragedy in their industry (such as airline crashes), the decision is often left up to the discretion of the publisher.
Annie Rohrs, a spokesperson for CBSNews.com, says the site's policy is to pull not only pre-roll ads but also display ads from news stories involving tragedies. "We removed all ads from our Newtown coverage on Friday," Rohrs explained via e-mail on Monday night. "Due to a technical glitch, pre-roll ads were briefly run today in some video coverage."
Julie Townsend, a spokesperson for ABC News, says that the news organization's policy is to remove as many ads as possible from stories involving tragedies such as Sandy Hook, but that technical considerations make removing all pre-roll videos on a breaking news story more difficult than pulling down all the banner ads. Yahoo News declined to comment.
On NBCNews.com, viewers shouldn't see any pre-roll ads in front of stories about the shooting in Newtown—for now. "On this story, very early in the coverage last week, we decided to turn the ads off," says Stokes Young, executive producer for multimedia at NBCNews.com. "It was an editorial decision that is in line with our long-standing practice of considering the interests of the subjects of our stories, the viewers, and our advertisers, and whether playing a pre-roll ad in front of a video about such a horrific story would be appropriate for any of those three groups."
Young says that at NBC News every video producer has the ability to turn off the pre-roll ad on a specific video—and also to escalate the question of appropriateness to the website's top editors. Ultimately, it's the site's editorial team that decides whether a blanket policy of shutting off the ads is needed, due to the sensitivity of a particular news event. "Then we'll let our partners in ad sales on the business side know," says Young. "Generally, they're supportive."
Eventually, as the news cycle progresses from reporting on the initial victims of the tragedy to, say, exploring the long term political ramifications of the event, the editorial team will talk about whether to turn the ads back on. On Monday afternoon at NBC News, said Young, that moment still seemed a long way off.
Before it's here, it's on the Bloomberg Terminal.
LEARN MORE