Why the Feds Want to Give Aspiring Entrepreneurs Unemployment Benefits
by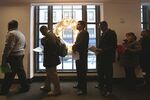 In a recent post on the U.S. Labor Department blog, Labor Secretary Hilda Solis and Small Business Administration chief Karen Mills trumpeted a "common-sense" initiative to turn unemployment benefits into jobs: Make it easier for laid-off workers to collect unemployment while they start businesses. Would-be entrepreneurs wouldn't have to hire people to be eligible for benefits; they'd just have to show they're spending their time trying to create the new venture.
The idea of extending the safety net to people creating their own jobs as opposed to limiting it to job-seekers isn't new. In fact, a voluntary federal program created in 1993 has long encouraged states to do this. One of the big problems is that only seven states (Delaware, Maine, New Jersey, New York, Oregon, Washington, and Pennsylvania) have active programs, according to the Labor Department. In the rest of the states, unemployment insurance recipients generally have to show they're searching for work.
Solis and Mills want to change this. On their new website, they offer model language for legislators to amend existing state unemployment compensation law or draft new authorizing legislation. They also mention a sweetener: States can get a cut of $35 million in federal money to set up the so-called self-employment assistance programs (part of the Middle Class Tax Relief & Job Creation Act of 2012, which President Obama signed into law in February).
If a greater number of states were to offer such programs, the results could be significant, says Katie Vlietstra, director of government affairs at the National Association for the Self-Employed, which supports the push. The self-employed are already a formidable group. Based on the results of a poll conducted this summer (PDF) of 470 self-employed and employers with 10 or fewer employees, NASE projects that the 22 million self-employed Americans will hire up to 11 million workers over the next two years.
"Usually, during an economic downturn, you actually see the numbers of self-employed increase—and sometimes increase dramatically," Vlietstra says. "We haven't seen that during [this] recession." She guesses that limiting unemployment to laid-off workers seeking traditional jobs has dissuaded many from starting their own ventures. "A program like this, if executed across the country, would be another tool that current unemployed people would be able to access and feel a little bit more confident of starting their own business."
Would-be entrepreneurs who participate in self-employment assistance programs are eligible for the same weekly amounts as they would get for regular unemployment insurance benefits. The average unemployment benefit provided about $300 per week in 2010 and 2011, according to the Center on Budget & Policy Priorities. Participants are expected to work full-time on starting businesses instead of looking for wage and salary jobs.
Before it's here, it's on the Bloomberg Terminal.
LEARN MORE