Japan Election Landslide Puts LDP Back in Power
By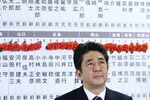 Following the landslide victory of Shinzo Abe's Liberal Democratic Party on Dec. 16, is it possible that Japan's long national nightmare is finally ending? With the LDP and a coalition partner commanding a two-thirds majority in the lower house of the Diet, Abe has the ability to follow through on his promise to increase government spending and force the Bank of Japan to set an inflation target of 2 percent. "What Abe promises is coordination of monetary policy, fiscal policy, regulatory policy," Jesper Koll, JPMorgan's head of Japan equity research, told Bloomberg Television on Dec. 17. "If he can pull that off, in true leadership style, he will go down in history as one of the greats."
Still, in the years since the collapse of Japan's bubble economy, Japan's lackluster leaders have disappointed optimists again and again. Given the track record of the country's pols, "I'm not getting my hopes too high," says Glenn Levine, senior economist at Moody's Analytics. He expects the Japanese economy to slow down from 2 percent growth in 2012 to growth of just 0.7 percent next year. There aren't signs of improvement in the fight against deflation, either, with Moody's expecting prices to increase at just 0.1 percent in 2013, after zero growth this year.
Abe himself didn't win rave reviews during an earlier stint as prime minister in 2006 and 2007. After he stepped down, citing poor health, "he disappeared from the scene," says Levine. "The hope is he learned lessons from his dismal performance."
There's reason to think, however, that he'll do better this time. The stunning size of the LDP's electoral triumph means Abe and his partners "can do whatever they want" to jump-start the economy, according to Koll. He believes the new prime minister will lead "an all-out attack on deflation" via the easing of both fiscal and monetary policy. "That's on the agenda right now, and he's going to get to work very quickly."
The new prime minister will need to work fast, since his party will face the electorate again in July, when Japanese will vote for the upper house of the Diet. The Democratic Party of Japan may have been nearly wiped out in the lower house elections, but the DPJ and its partners still control the less powerful upper house. Abe will want voters to feel the country is moving in the right direction. "If they don't deliver a feel-good factor by next year's upper house election in July, the people are going to vote against them," Koll said. "So there's a big incentive to deliver."
One area where Abe will probably deliver quickly is in improved relations with the U.S. President Obama dealt with three ineffective premiers from the DPJ, which antagonized the White House by campaigning on a pledge to force the Americans to withdraw from the U.S. base in Okinawa. The DPJ had to retreat from that promise after resistance from the Americans.
Now that the LDP is back in charge, Abe will focus quickly on improving ties. After the election, he'll make his first trip overseas to Washington, D.C., where the Obama administration should respond well to his talk about expanding cooperation and boosting military spending. "He will get a warm welcome in Washington," says Jeff Kingston, a political science professor and director of Asian Studies at Temple University/Japan in Tokyo.
Leaders in China aren't likely to be so enthusiastic. Abe has antagonized the Chinese by visiting the Yasukini Shrine in Tokyo, where Japanese war criminals from World War II are enshrined. Abe took a tough stance against Beijing following anti-Japan protests in China prompted by the dispute over islands in the East China Sea that Japan nationalized in September. "Tension with China will continue if party chief Shinzo Abe ditches pragmatism and follows his hawkish campaign rhetoric," the official China Daily newspaper reported in a Dec. 17 story under the headline "Abe 'must change' to build ties." Kingston, the Temple University professor, is confident the new prime minister will do enough to mollify the Chinese and instead focus on the economy. Japanese voters don't want an escalation against China, according to Kingston. "People want him to concentrate on economic issues," he says. Now that Abe has won in Japan and Xi Jinping has taken over the top job in China's Communist Party, "there is a good chance to hit the reset button with new leaders," Kingston says.
Before it's here, it's on the Bloomberg Terminal.
LEARN MORE