Gun Makers' Silence Won't Deter a Sales Surge
By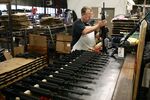 It goes without saying that people who manufacture and market firearms don't want to see them used to kill innocent school children. So not surprisingly, these have been a bad few days to make a living in the gun industry.
Making the pain more acute, the firearm-manufacturing business has its headquarters in Newtown, Conn., only a few miles from the Sandy Hook Elementary School, where 20 first-graders and six school staff members were gunned down on Dec. 14. Long-time executives with the Newtown-based National Shooting Sports Foundation, the gun industry's main trade group, said the organization is in a state of shock and mourning. (The better-known National Rifle Association represents gun owners.)
"I am a Newtown resident with kids in the school system," Larry Keane, the NSSF's top in-house lawyer, said via e-mail. "This is a sad time for us." In his brief message, Keane, who often serves as a spokesman for the industry at large, did not respond to a request for an interview.
Executives with major gun manufacturers have generally hunkered down since Friday and have not commented. The NRA likewise has remained mute, following its standard procedure in the wake of a mass shooting.
Share in gun makers declined Monday amid vows from some Democratic politicians in Washington to seek tougher gun control laws.
And yet, for all the understandable gloom, savvy industry observers who were in the mood to talk predicted that strong gun sales since President Barack Obama's reelection in November would continue into the new year. Among consumers, "the attitude is: 'If there's going to be more gun control, then I better buy now,'" explained Richard Feldman, a former NRA organizer and gun industry trade executive. He now heads a small group called the Independent Firearm Owners Association. "That was already true with Obama's victory last month, and you're going to see more urgency and more interest now." Over the weekend, there were anecdotal reports around the country of brisk sales at local gun shops.
Senator Dianne Feinstein (D-Calif.) has vowed to introduce legislation early next year banning "assault weapons", meaning military-style semiautomatic rifles of the sort that the Newtown killer used in many, if not all, of his grisly murders. This might sound like bad news for manufacturers of such rifles, but the industry actually welcomes such legislative threats. In the short term, gun makers will see a run on weapons singled out for future restrictions.
In the long run, manufacturers are likely to figure out ways to design around any limitations Senator Feinstein seeks. That's precisely what happened during the assault weapons ban of 1994-2004. Before that law expired, its many loopholes allowed the trade in semiautomatic rifles to proliferate.
In any event, it's far from certain, even after Newtown, that Democrats will succeed in pushing any kind of significant gun-control bill through the Republican-controlled House of Representatives, where the NRA and its politician allies are sure to fight fiercely.
Military-style semiautomatic rifles have been a commercial winner for the gun industry, although firearm marketers now prefer the blander-sounding moniker "modern sporting rifle." Freedom Group, the largest U.S. maker of guns and ammunition, with nine manufacturing plants and 3,100 employees, stated in its most recent quarterly earnings report on Sept. 30: "In many areas, the market is expanding quicker than the industry can increase production." Majority owned by the private equity firm Cerberus Capital, Freedom Group added: "Our company is experiencing strong demand for modern sporting firearms and handguns." Based in Madison, N.C., Freedom Group owns Bushmaster, the manufacturer of the military-style semiautomatic rifle used by the Newtown killer. The company did not respond to a request for comment.
[UPDATE: On Dec. 18 Cerberus Capital announced that it would sell its stake in Freedom Group, which owns Bushmaster, the company that made one of the weapons used in the Dec. 14 Connecticut school shooting.] Freedom Group reported sales of $677 million for the first nine months of 2012, an increase of 20 percent from the same period a year earlier. Wal-Mart accounted for about 13 percent of the company's sales. Freedom Group's other well-known brands include Remington, Para USA, Advanced Armament, and Barnes Bullets.
Requests for comment also went unanswered at Glock and Sig-Sauer, the companies that manufactured the two handguns Connecticut police said the Newtown killer also carried with him.
Despite the overall robustness of the U.S. gun industry, whose annual sales are estimated at $2 billion to $3 billion, investors were rattled Monday by discussion of potential new gun control laws. Smith & Wesson Holding led a decline in stocks of firearm makers, Bloomberg News reported. Shares of Smith & Wesson fell 5.2 percent to 8.65 in the day's trading, extending the drop to more than 11 percent over two trading days since Dec. 14. began Sturm Ruger & Co. declined 7.3 percent during the period.
Shares of Smith & Wesson, based in Springfield, Mass., had more than doubled this year through last week. Sturm Ruger, based in Southport, Conn., had gained more than 36 percent for the year. Both make handguns as well as rifles, including semiautomatic models. The companies did not respond to requests for comment.
With reporting by Brooke Sutherland and Devin Banerjee, Bloomberg News.
Before it's here, it's on the Bloomberg Terminal.
LEARN MORE