Citigroup Downgrade Pushes Apple Shares Near $500
The stock, down 28 percent in two months, is still up on the year.
By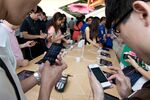 Shares of Apple, one of the most popular stocks among retail investors and hedge funds alike, broke through a psychological level this morning by falling to $499 in premarket trading. The stock is down 28 percent from its all-time high of $702 two months ago (but it's still up more than 25 percent on the year).