Citigroup Downgrade Pushes Apple Shares Near $500
The stock, down 28 percent in two months, is still up on the year.
by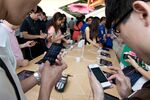 Shares of Apple, one of the most popular stocks among retail investors and hedge funds alike, broke through a psychological level this morning by falling to $499 in premarket trading. The stock is down 28 percent from its all-time high of $702 two months ago (but it's still up more than 25 percent on the year).
Some of the movement is due to a Citigroup report, published today, that downgrades Apple to a "neutral" rating over concerns that it has scaled back orders from its Asian suppliers. At least four other banks have lowered their guidance on Apple this month, according to Bloomberg data, although 84 percent of analysts still rate the stock a buy. Fewer than 5 percent label it a sell.
Plenty of Apple bulls still exist—one example being Brian J. White, an analyst at Topeka Capital Markets, who this morning reissued his Apple price target of $1,111 per share. White cited record iPhone 5 sales in China of 2 million, in the device's first three days in stores.
Before it's here, it's on the Bloomberg Terminal.
LEARN MORE