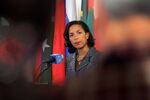 Susan Rice's decision to withdraw from consideration to be the next secretary of state has averted a potentially bruising Senate confirmation battle. It may help the White House defuse the controversy over its handling of the September attack on the U.S. consulate in Benghazi, Libya. Rice's retreat also paves the way for John Kerry to succeed Hillary Clinton at Foggy Bottom, a prospect that has been received favorably among Kerry's colleagues; Senate Minority Leader Mitch McConnell says Kerry would be "would be a popular choice with the Senate."
In political terms, the end of Rice's bid probably comes as something of a relief to President Obama. But that doesn't mean it's a triumph for American diplomacy.
Over the last several weeks, criticism of Rice's fitness to be secretary of state has gone far beyond the Benghazi issue. After Rice met with a group of Senate Republicans in late November, Maine Senator Susan Collins blasted Rice—who, as U.N. ambassador, is a member of Obama's Cabinet—for playing a "political role" during the presidential campaign. Senator Bob Corker of Tennessee said that "when I hear Susan [Rice] talk, she sounds to me like she'd be a great head of the Democratic National Committee." On Nov. 30, New York Times columnist David Brooks said that GOP opposition to Rice's nomination was based mainly on the notion that "People think she's too political, too partisan."
Meanwhile, reports of Rice's often-abrasive style led Washington insiders to suggest she lacked the character the world expects of America's top diplomat. As one former, unnamed (of course) White House aide told the Times, "She suffers from the same thing the president suffers from in D.C., which is that she doesn't want to go around and pat everyone's back." In a withering Nov. 16 takedown, the Washington Post's Dana Milbank wrote, "Particularly in comparison with the other person often mentioned for the job, Sen. John Kerry, [Rice] can be a most undiplomatic diplomat. In a town that rewards sharp elbows and brusque personalities, Rice has managed to make an impressive array of enemies." Arguing against Rice's nomination, Milbank concluded, "The nation's top diplomat needs to show more sensitivity and independence."
This has been a constant refrain among Rice's critics—comparing her against some mythic ideal of statesmanship, as if every secretary of state is some debonair paragon of serene detachment. But the notion that a person charged with promoting America's interests and confronting its adversaries shouldn't be blunt and willing to offend is, on its face, ridiculous. As a litmus test, it would disqualify most of those who've held the job, from Henry Kissinger to George Shultz, to Clinton herself.
Opposing Rice for being insufficiently "independent" from Obama makes even less sense. The most effective diplomats are those whose fidelity to the president is unquestioned—and who, in turn, have the president's trust. For a secretary of state, an essential element of success in negotiations is being able to demonstrate to your counterpart that you speak for the commander-in-chief.
But perhaps the most disingenuous attack made against Rice had to do with her résumé. In the eyes of her opponents, Rice was too young, untested, and inexperienced for such an august title. "I suggest the president nominate someone eminently more qualified—that's John Kerry," Wyoming Republican Senator John Barrasso said on Nov. 28. Yet Rice, who's held senior foreign-policy positions in two administrations, has as much diplomatic experience as Condoleezza Rice did in 2005 and far more than Madeleine Albright did in 1997. Rice has served in government twice as long as Kissinger had when he became secretary of state in 1973.
It goes without saying that John Kerry boasts the profile, biography, and bearing of a statesman. There's reason to believe he will become an influential member of the president's national-security team, but there's no way to know. Susan Rice, on the other hand, has already earned that credential. President Obama probably gained a political reprieve with Rice's withdrawal. But he may have lost his best choice for secretary of state.
Before it's here, it's on the Bloomberg Terminal.
LEARN MORE