Ross School Nearly Erases MBA Gender Pay Gap
Alison Damast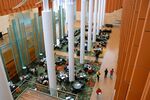 The University of Michigan's Ross School of Business may not have completely closed the gender pay gap between men and women in 2012, but it came pretty close, according to exclusive research from Bloomberg Businessweek showing the wage gap at many top schools getting worse.
Women graduating from the school made 99.1 cents for every dollar men made in their first jobs in 2012. Ross is one of just two top-30 schools where women managed to almost achieve equity with men on pay last year (at the University of Chicago's Booth School of Business, female MBA graduates earned 99.3 cents for every dollar men made).
Ross stands out from the pack because it has managed to consistently achieve or nearly achieve gender pay parity since 2008. For example, in 2010 Ross women also managed to earn 99.1 cents for every dollar men made, and in 2008 they earned nearly a penny more than men. That's a rarity among business schools where the gender pay gap can often fluctuate from year to year.
Damian Zikakis, director of career services at Ross, said he believes those salary numbers hold up year after year because the career interests of women at the school largely parallel those of men, especially in areas like consulting and marketing.
In 2012, women made up 30 percent of the MBA class and about the same percentage—31 percent of women—went into consulting. The average starting salary in consulting for men and women is nearly equal, Zikakis said, noting that women made $126,602, while men earned $126,289. Meanwhile, nearly 40 percent of women went into marketing, which paid women on average $101,351, slightly less than the $101,806 average starting salary of men who went into the field.
"I think the fact that the percentage of women in these fields is comparable to the percentage in the class, especially in consulting, says they are pursuing things equally," Zikakis said. "They are not seeing a dramatic difference between themselves and their career interests vs. men. From a societal standpoint, that's a good deal for them."
The only sector where a significant wage difference existed between men and women was finance, where women made about $6,500 less than men. Of the 80 students at the school who went into finance, only 18 were women, and 13 of them went into corporate finance roles, Zikakis said. In contrast, only 19 of the 62 men who went into finance pursued that path, with the vast majority of the rest going into more lucrative fields like investment banking, skewing male finance wages higher.
An exception to the rule is Erica Horwitz, a 2012 graduate of the Ross MBA program who is now working as an associate at an investment bank in New York. She was one of just a small number of women who were recruited for internships in the investment banking field, and is the only woman in her class she knows of who went into the field full-time after graduation.
"I went into investment banking because I liked the challenge of it," she said. "I think on some level, more women at Ross are attracted to consulting and generally speaking less people are going to Wall Street, which is very male-dominated."
Join the discussion on the Bloomberg Businessweek Business School Forum, visit us on Facebook, and follow @BWbschools on Twitter.
Before it's here, it's on the Bloomberg Terminal.
LEARN MORE