Portland Bike Maker Sees Made-in-USA Demand From Overseas
by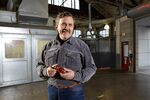 Until this year, few people beyond his 96 employees saw inside Chris King's bicycle factory in Portland, Ore.
The cagey manufacturer makes everything in an old coffee roasting plant on the edge of town, and he zealously guards the secrets that have helped his company thrive despite competition from China and Taiwan, where 99 percent of the 15.7 million bikes sold in the U.S. last year were made, according to the National Bicycle Dealers Association.
Now, as businesses in disparate industries, including Apple and General Electric, rediscover the appeal of Made in USA, King is letting visitors see at least some of the 80,000-square-foot place: the frame-welding floor, the room where employees press tiny metals balls into metal rings for hub bearings, and the paint booth. The main floor, where workers mill aluminum parts, some precise to 2/10,000ths of an inch, is still off limits.
Annual sales for Chris King Precision Components are about $10 million. Half of that comes from overseas orders, from Bangkok to Berlin. In September, King went to the White House to talk about how to boost other American exports. He's been in regular touch with the Obama Administration since.
Exporting is easier for premium brands, and King is the Patek Philippe of cycle components. King's gear is expensive, durable, and it has cachet among riders. Unlike the Swiss watchmaker, he doesn't advertise. He ran his last ad in 2001 and now relies on reputation. A top-end Chris King hub, the bearing-filled cylinder to which the spokes are lashed, sells for $578. The hubs come in 10 anodized colors, including mango. King makes bike frames, too, but it's a tiny fraction of his business. Output is about 300 annually. They start at $1,700 for just the frame.
King, who gives his age as 50-something, sports a graying mustache, a wavy mane of hair, and a flannel shirt tucked neatly into newish jeans, says his secrets include a clean, orderly factory. Floors are mopped every night. On a rare walk with a visitor through the forbidden manufacturing floor, he grimaces at an electrical conduit running from the ceiling to one of his machines that isn't quite vertical. "If the place looks like a junk pile, you're going to get junk," he says.
More important is a motivated workforce. Employees get health insurance if they work 30 hours a week. Most production-line folks work four 10-hour days. Breakfast and lunch are prepared by a chef who used to work at the Four Seasons in Seattle. On the menu earlier this month: slow-cooked beef shoulder with braised kale and mashed potatoes. The price: $6. "Happy employees make good products," King says.
King, a California native, got his start machining parts for medical, military, and bicycle gear in Southern California. One of his first products was a bearing for a medical drill used to penetrate the human skull. An avid rider, he dropped the medical and military work when sales of his bike parts grew enough.
As business increased, California's living costs rose, and skilled workers became harder to find, King packed his factory into 300 wooden bins he bought from an olive grower and relocated to Oregon in 2003. Cheap hydropower brought aluminum smelters to the region in the 1940s and 1950s. Henry Kaiser built ships in Portland during World War II. Today, Precision Castparts makes fan blades for jet engines. Gunderson, a unit of Greenbrier, makes railroad cars just down the road from King.
King is a relentless repurposer. He washes his parts in restaurant-grade dishwashers and stores them in cardboard egg trays. Companies that mill metal use thousands of gallons of oil each year to cool and lubricate their machines. King uses expensive soy oil—from beans grown in the U.S.—instead of petroleum products because it's renewable. The oil ends up mixed with metal shavings in the machines. King squeezes out the oil and reuses it. The scrap metal ends up in hockey puck-shaped disks that are sold to recyclers.
Even his machines are recycled. In a previous life, one of his drill presses was used to install electric pickups on Gibson guitars. A machine used to make wheel hubs has a War Department plaque from World War II.
King's success has helped make Portland a hub for bike geeks. United Bicycle Institute, a school that started in Ashland, Oregon, opened a Portland campus in 2009. Students learn to weld their own bikes from scratch in two weeks. The Oregon Bicycle Constructors Association lists 52 members, including Metrofiets, a local maker of elongated cargo bikes. Another local builder, Sweetpea Bicycles, specializes in bikes for women and has a model called the Little Black Dress.
While building bikes by hand has legs among enthusiasts, producing them in higher volumes commercially remains challenging domestically, says Richard Schwinn, whose great grandfather, Ignaz, started the iconic cycle maker that shares their last name (and makes its bikes in Asia). Richard, who heads Waterford Precision Cycles, a high-end frame maker outside Milwaukee, admires King's grit: "Chris King sets great standards for the industry."
Before it's here, it's on the Bloomberg Terminal.
LEARN MORE