MBA Job Picture Bright for International Students
Francesca Di Meglio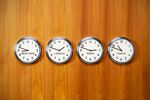 International MBA students studying in the U.S. don't necessarily have it as hard as everyone thinks when it comes to snagging coveted jobs. Not only do most schools surveyed by Bloomberg Businessweek report placement rates on par with those for domestic students, but many report that international students are having success landing jobs in the U.S., despite significant obstacles.
Of 25 U.S. business schools ranked by Bloomberg Businessweek in 2012 that responded to an informal survey, five reported that 100 percent of international students had received and accepted a job offer three months after graduation: University of Washington's Foster School of Business, Ohio State University's Fisher College of Business, Rutgers Business School, Texas A&M's Mays Business School, and University of Georgia's Terry College of Business. All 25 programs had placement rates of 73 percent or more.
Most international students seek jobs in the U.S., where the positions are more plentiful and salaries more competitive than they are in many international markets. Obtaining work visas can be difficult and time-consuming. Still, a number of schools report success in placing international students domestically. The University of Iowa's Tippie School of Management, Howard University, and Carlson all reported that 100 percent of those with offers had them in the U.S. At Babson's Olin Graduate School of Business, 43 percent of internationals had U.S. job offers compared with 30 percent in 2011, while 54 percent only had offers abroad and 3 percent had both domestic and international offers.
"Some international students want to go back home, but most if given a choice, want to stay in the United States," says Cheri Paulson, director of graduate career services at Olin.
A couple of obstacles stand in the way of the American dream. For starters, international students have F-1 visa status, which means they are non-immigrant students in the eyes of the law. They can all stay in the U.S. to work for 12 months after graduation without an additional visa; those with pre-MBA backgrounds in science, technology, or engineering can stay for 24 months. After that, international grads must get an H-1B visa, which requires employer sponsorship. Many companies are unwilling to make the effort, and some will outright refuse to hire internationals.
Still, international students who are looking for work can be optimistic. Business schools report that recruiters for big multinationals are more willing to have MBAs work in the U.S. for a year of on-the-job training before sending them back to offices in their home countries. Also, some employers realize that the salaries in the U.S. are better than those in MBA grads' home countries, so they're providing signing bonuses or matching wages to make up the difference when they send them back home, says Jeff Rice, executive director of the Office of Career Management at Fisher.
Despite the popularity of the U.S., more students are looking for jobs back home, especially in emerging markets such as China. "Mainly they see China as a place of business growth and opportunity," says Naomi Sanchez, assistant dean for MBA career services at Foster.
Of course, the international recruiting picture is incomplete, with only 40 percent of the 63 ranked schools responding to our survey. Among those that declined to provide information: eight of the top 10 programs. Only the University of Chicago's Booth School of Business, which had an international placement rate of 95.2 percent, and Stanford Graduate School of Business, which reported a 91 percent international placement rate, responded.
Schools that had the most success encouraged students to look at opportunities both in the U.S. and abroad, and to consider companies that had a strong presence in their home countries or were willing to sponsor those who need visas (which you can determine at myvisajobs.com). They also advised non-U.S. students to pursue careers in industries that are more international-friendly, such as supply chain management. Of course, most of the schools said the key to landing a dream job is the same for internationals as it is for domestics; they must successfully make a case for hiring them over the competition.
"If you wear the F-1 status on your forehead," says Dean Vera, assistant dean and director of the MBA Office of Career Management at Rutgers, "it becomes a self-fulfilling prophecy."
Join the discussion on the Bloomberg Businessweek Business School Forum, visit us on Facebook, and follow @BWbschools on Twitter.
Before it's here, it's on the Bloomberg Terminal.
LEARN MORE