How UBS Could Survive a Guilty Plea in the Libor Scandal
By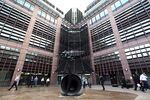 UBS, Switzerland's biggest bank, may be on the brink of settling with U.S. and U.K. prosecutors over rigging Libor, a benchmark interest rate. My colleagues at Bloomberg News reported yesterday that the settlement may include $1 billion in fines, and the New York Times adds that a guilty plea on criminal charges may also be part of the deal. That second piece is big news: It would make UBS the first big bank to plead guilty in more than a decade.
Prosecutors have been nervous that some banks may be too big to prosecute—that a guilty plea would force a huge company to fold, roiling the markets and costing thousands of uninvolved employees their jobs. The poster child is Arthur Andersen, the auditor that went bankrupt for its role in Enron's collapse. But the argument that a criminal conviction is an automatic death sentence for a company "is clearly an overstatement," says Samuel Buell, a professor at Duke's law school who researches corporate criminal prosecution. "I think it's very unlikely that UBS would be pleading guilty if it was in fact going to put them out of business."
The effects of pleading guilty, Buell says, vary widely depending on the company and the crime. As an auditor, Arthur Andersen was selling its professional judgment, and criminal conviction proved fatal to trust in that judgment. That's an exception, though: Plenty of other companies plod through the reputational damage associated with large criminal fines, from BP after the Gulf oil spill to drug companies charged with off-label marketing. Like those firms, plenty of banks have managed to survive despite, shall we say, less-than-stellar street cred when it comes to putting clients first.
A bigger concern for UBS may be whether a conviction automatically bars it from an important line of business. Felony-convicted drug companies are denied payments from Medicare, for example, a massive lost market. For banks, a guilty plea can cost a company its charter, but Buell says two tactics help prevent that death sentence: They can plea-bargain down to a lesser charge, or they can negotiate to have a subsidiary take the fall. That may be the case with UBS: The Times reports that the bank's Japan unit is expected to plead guilty, but the parent company may be able to strike a nonprosecution agreement with prosecutors.
Buell says having a recent test case for large banks may be promising for future corporate accountability. "If this settlement is going to be able to be done without cataclysmic effects," he says, "it suggests that maybe we can have guilty pleas."
Before it's here, it's on the Bloomberg Terminal.
LEARN MORE