Hailing Taxis via Smartphone Comes to New York City
By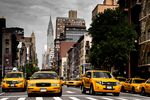 Catching a cab in midtown Manhattan at 4:30 on a weekday afternoon is the closest most New Yorkers will ever get to hunting. You have to know the patterns of your prey: its favorite haunts, its preferred routes, its tendency to vanish when your need is most acute (during rainstorms, for example). You have to outwit all the cab-poachers lurking in the shadows.
Yesterday, however, New York City emerged from the hunter-gatherer cab era. The city's Taxi and Limousine Commission voted 7-0 (with two abstentions) to allow people to find, hail, and pay for taxis using smartphones. So-called "e-hailing" is already hugely popular in San Francisco, London, Chicago, Dublin, and other cities, where services such as Uber, Hailo, GetTaxi, and Flywheel are competing to sign up both cab users and drivers. Users love the convenience of being able to scan for nearby cabs and then summon one with a touchscreen tap. Cabdrivers are able to spend less time driving around looking for fares and more time carrying paying customers.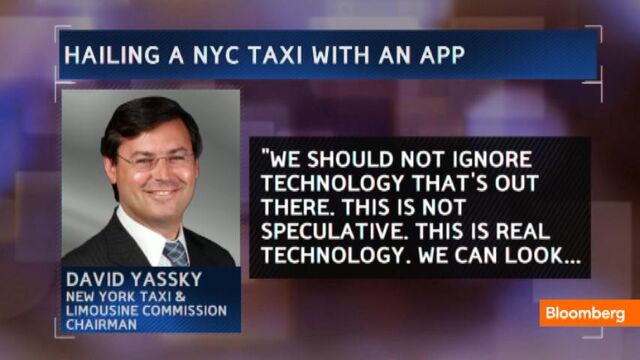 Not everyone was thrilled at the prospect, however. The taxi market in New York is divided between yellow cabs, which can only be hailed on the street, and livery cabs, which passengers call on the phone for pickups. Livery cab companies fear that e-hailing will allow yellow cabs to take their business. A few city council members also expressed concern in letters to the TLC that e-hailing will make it harder for people without smartphones to get cabs.
As a result, the TLC only approved a one-year e-hailing pilot program, with restrictions. E-hails will only be able to summon cabs from a half mile away in the heart of Manhattan and a mile and a half elsewhere, to minimize the number of frustrated street hailers who have to watch empty cabs drive by them on the way to e-hail pickups. And to prevent drivers from privileging e-hails over street hails, drivers cannot charge more for e-hails than the taxi meter fare.
Among the most active of the e-hail services in pushing for the change was Hailo. The company already dominates the London market, with more than half of the city's cabs using it. Over the past year, the company has been signing up drivers in New York, persuading many of them with research it has done showing that up to 40 percent of a cabdriver's time is spent searching for fares. And though New York cabbies can't yet use Hailo to connect with passengers, the driver version of the app already allows them to connect with each other, sharing information about traffic and demand. The company's co-founder and chief executive officer, Jay Bregman, said he's very happy with the TLC's decision. "We are thrilled to be taking this technology, which has worked so well in the rest of world, to the New York market."
As Bregman sees it, the stipulations in the ruling will blunt its impact a bit. The limits on the e-hailing radius may, as he puts it, "cut some value out of the system." And the requirement that e-hail payments go through existing cab credit-card swipe machines might slow the implementation as well. The companies that make the swipe machines, known as TPEP (for Taxicab Passenger Enhancements Project) equipment, have been reluctant to collaborate with e-hailing companies, since payment through the apps would cut into the income from swipe machine fees. (The TLC gave itself an out on this requirement, stipulating that if the integration process proves too onerous, the TLC chair can just waive the requirement.) Nonetheless, Bregman promises that Hailo will be ready to go by mid-February, the pilot program's official start.
Of course, none of this helps solve what for New Yorkers is the biggest problem with smartphones in cabs: their tendency to fall out of pockets or purses onto the backseat, never to be seen again.
Before it's here, it's on the Bloomberg Terminal.
LEARN MORE