For $100 Million, Southwest Learns to Love Bag Fees
by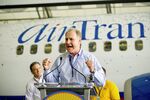 If there was ever any doubt how much U.S. airlines heart their fees, look to Southwest. Today, the "bags fly free" airline touted to Wall Street a bevy of fee increases for its AirTran subsidiary:
• $10 more to check a second bag (now $35)
• $5 more to check a first bag (now $25)
• $50 more for overweight bags (now $100)
The company also plans to impose a new, still-undetermined financial charge for people who do not show up for their flights, and it will charge $2.50 more (raising the fee to $12.50) for Southwest's "early bird" check-in program. Collectively, the new and higher "ancillary" fees are expected to boost Southwest's revenue by $100 million in 2013. Chief Executive Gary Kelly is waging war against higher costs as the Dallas-based airline prepares for contract talks next year with its five largest unions.
Southwest has operated AirTran as a fully owned subsidiary since May 2011, and it has begun repainting AirTran's airplanes to Southwest colors and reconfiguring AirTran's cabins. Southwest says it won't fully integrate AirTran into the company, however, until the end of 2014. (Or possibly into 2015, at least according to one slide (pdf) in its presentation Friday.) Why? The integration of various technology systems is one reason. But I suspect another, equally valid and far more lucrative factor is fees. AirTran has the sweet nectar of bag fees that the main operation doesn't collect, at least for now.
Might Southwest feel compelled to tame those funny TV commercials that attack rivals over their baggage fees? Nope, a spokeswoman said. Those ads cover Southwest—not AirTran.
Before it's here, it's on the Bloomberg Terminal.
LEARN MORE