With SolarCity IPO, Elon Musk May Get Clean Tech Right
by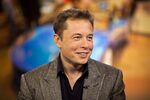 Over the past few years, Silicon Valley has pumped hundreds of millions of dollars into a vast array of "clean technology" companies. You probably can't name many of them because, on the whole, they've been tremendous failures or totally underwhelming. Companies participating in particularly difficult areas such as solar have turned into laughingstocks and symbols of huge investments gone wrong.
There does, however, seem to be one person getting quite wealthy off green technology, and that's Elon Musk, the chief executive of Tesla Motors and the chairman of SolarCity. When SolarCity began trading on Thursday, its shares jumped more than 50 percent in early trading (although the company had lowered its IPO price in recent days due to lackluster demand). Musk is now the largest shareholder in a pair of public clean-technology companies. (Going into the offering, Musk owned 31 percent of SolarCity, according to a Securities and Exchange Commission filing. That would be worth $150.8 million at the $8 offering price. A second filing said he intended to buy more shares at the offering.)
"It's possible that Elon's two clean-tech companies will be the two most successful clean-tech companies in the U.S.," said Peter Thiel, the entrepreneur, investor, and Facebook board member in an interview earlier this year. Thiel is an investor in Musk's SpaceX venture.
Instead of playing in the cutthroat world of solar-panel production, SolarCity, founded in 2006, focused on leasing solar panels to consumers and businesses and making this process easier. It helps people calculate how much money they can expect to save with solar panels, sets up the financing, and coordinates the installation of the panel. Through the first nine months of the year, SolarCity brought in $103 million of sales. Its business has been booming, although the company has yet to turn a profit and is likely to see a number of the state and federal tax credits from which it benefits decline over time.
What makes Musk's clean-technology empire intriguing are the ways in which he intertwines the businesses. Tesla, for example, has begun building out a network of solar-powered charging stations for its cars. People can drive long distances—San Francisco to Los Angeles, for instance—and refuel their Model S sedans for free using a type of superfast charger. Musk has pledged to keep this refueling service free "forever," and it is SolarCity that helps set up the stations. Beyond this, Musk plans soon to unveil what he's describing as a "new mode of transportation" that sounds like some kind of solar-powered, super-fast tunnel called the Hyperloop. (He describes it in some detail here.)
Musk helped come up with the business plan for SolarCity, which was then founded by his cousins, CEO Lyndon Rive and Chief Technology Officer Peter Rive. All the men grew up near each other in Pretoria, South Africa, where Musk led them on a variety of entrepreneurial ventures, including selling Easter eggs door to door. Their mothers were born in Canada, and at about age 15, Musk hatched a plan to move the entire clan to the U.S. after first obtaining Canadian citizenship. "Without Elon I would be stuck in South Africa," Lyndon told me in an interview earlier this year. "His ability to help us leave the country was amazing."
Lyndon eventually obtained his green card for the U.S. through his skills as an underwater hockey player. (Yes, this sport exists.) "The U.S. has this green card category for people with exceptional abilities, like if you're really good at sports or an actor," Lyndon says. "I've been playing the sport since I was 14, and to get the exception you have to prove that you're one of the best players in the world." Both Lyndon and his wife have played for the U.S. National Underwater Hockey team.
Once in the U.S., the Rive brothers started a data center software company called Everdream, which Musk bankrolled. Dell eventually acquired the company for $120 million. The cousins took the money, gave their next venture a think, and all settled on SolarCity.
Both Tesla and SolarCity have their challenges. Tesla has just started pumping out its new Model S sedan at a regular rate. The good news is that it has thousands of back orders to fill. The bad news is that it needs to produce the machines profitability and reliably. Earlier this month, Musk revealed that Tesla had enjoyed a week of positive cash flow. Still, Tesla remains one of the most shorted stocks on the market, with big-time investors betting that Musk will fail. Mitt Romney drove this point home during the presidential debates, describing Tesla as a "loser."
SolarCity has installed panels at more than 45,000 buildings and been at the forefront of an era when getting this type of technology put on a home or office became much, much easier. "Clean energy has taken a big hit, primarily on the solar side, because of a lot of the companies there were producing a commodity," Lyndon says, referring to the solar-panel and substrate makers. "The stocks were overhyped because of overdemand and undersupply, and then supply caught up. This should not be a measurement of the market's willingness to adopt clean energy. The market adoption is almost doubling every year."
Before it's here, it's on the Bloomberg Terminal.
LEARN MORE