Why Hasn't Ex-SAC Capital Manager Mathew Martoma Turned on Steve Cohen?
Former SAC portfolio manager Mathew Martoma's refusal to cooperate is "baffling"
By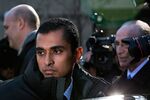 When Mathew Martoma was confronted by an FBI agent on the front lawn of his Boca Raton (Fla.) mansion last year with allegations of insider trading, he was so distressed that he fainted. But apparently it wasn't enough to compel the former SAC Capital portfolio manager to cooperate with federal investigators. That was only the first of several opportunities Martoma has been given to "flip" and turn on his former boss, SAC founder Steven Cohen, according to a person familiar with the investigation. So far, Martoma has declined to cooperate at every opportunity, and time is running out for him to do so. Martoma was charged on Nov. 20 with making $276 million in illegal profits and avoided losses trading stocks of the pharmaceutical companies Elan and Wyeth while working at SAC. Martoma says he is innocent. No charges have been filed against Cohen.
"We have been remarkably successful in convincing persons to cooperate with the government, and provide evidence to us, and in a court of law," said Robert Khuzami, the director of the enforcement division at the Securities and Exchange Commission, during a press conference to announce the charges against Martoma. "You cannot trust your partners in crime to keep your secrets."
The SEC and its colleagues at the Federal Bureau of Investigation have indeed proven adept at convincing people to work with them in their multiyear investigation of insider trading, and so far, most collaborators have been rewarded with leniency. Anil Kumar, the former McKinsey partner who cooperated with the government in the case against Galleon Group co-founder Raj Rajaratnam, received two years' probation instead of potential prison time; Rajiv Goel, a former Intel executive-turned-Galleon witness, also got probation rather than jail, to name two of many.
Martoma may help investigators home in on Steve Cohen himself, the big fish the investigation appears to be circling. The fact that Martoma, a 38-year-old father of three young children, has held out so far is baffling to authorities, according to the person familiar with the investigation. The main witness Martoma would potentially face in court—Dr. Sidney Gilman, an 80-year-old physician with a distinguished medical career who has told prosecutors that he shared material nonpublic information with Martoma—would likely be a sympathetic character before a jury. If found guilty, Martoma could end up spending his 40s in prison. The longer he takes to decide to cooperate, the less helpful it's likely to be in terms of reducing his own sentence.
Martoma's attorney Charles Stillman said, "I have no comment on that subject."
On Dec. 11, Fox Business Network floated the theory that Martoma remains loyal to his former boss because SAC Capital is paying his costly legal bills (while he's no longer with the firm, the activity occurred while he was working there). Stillman wouldn't go into details, but he did say: "There is nothing unusual in a corporation advancing the legal fees and expenses of an employee. Indeed, it is quite common."
Before it's here, it's on the Bloomberg Terminal.
LEARN MORE