This Holiday Season, Shop by Voice From Your Smartphone
Ryan Kim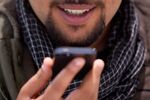 Maluuba made its debut in September as a sort of Android version of Siri, but with an emphasis on getting stuff done. Now the app is introducing an upgrade, just in time for the holiday rush, that allows users to shop from their phone by just speaking to it in a natural way.
Maluuba users can enter in all kinds of shopping-related requests, and Maluuba will find a list of products it thinks matches your criteria. These can be both local and online products. Maluuba produces results from Google and has been integrated into the data feeds of Best Buy and Walmart, allowing people to see products from those retailers. It also provides local results for stores nearby.
For example, you can say: "Find me a humidifier under $50," and Maluuba will bring back a list of a products that match. When I performed that search, Maluuba first took me to results from Google, but I could check out tabs for Walmart and Best Buy. You can also ask for a specific brand or describe the product you're looking for. When you're ready to buy, you just click once, and you go through an external checkout process.
The actual buying is still a little balky on a smartphone because you have to enter in payment and shipping data on a small screen. That's why you see more smartphones in use for shopping research as opposed to actual buying, which happens more on PCs and tablets. But since starting a shopping query is pretty fast and intuitive with Maluuba, this might help spur more smartphone-based commerce, especially since the product isn't limited to online shopping. Maluuba can also point you to retailers nearby that stock a product. That feature is based on Yelp data, but it's not always accurate.
Maluuba also provides a look into more than 100 e-tailer websites, including Amazon.com and eBay, so asking about a product from that retailer prompts Maluuba to send you to their website. For example, I was looking for sweaters at Zara, and Maluuba took me right into the search results page for sweaters on Zara.com.
Maluuba, which has $2 million in funding from Samsung Venture Investment, is looking to integrate with thousands of commerce site, and it also wants to incorporate social signals, says Tareq Ismail, Maluuba's user-experience designer. So in the future, Maluuba can customize searches and results based on a person's interests and likes.
I think Maluuba needs more deep e-commerce integrations to be really useful, though it's off to a good start. And it would be great if Maluuba could speed up the actual checkout process. I'd also like a simple way to continue reading my Maluuba results from another device so I can complete my purchases later. But I think it's nice to have a way to craft shopping queries using natural language, especially when you're on the go. And it might just get me to start more shopping quests from my phone.
Also from GigaOM:
Podcast: Mobile Winners and Losers in 2012 and What to Expect in 2013 (subscription required)
Here's Why Sprint Offered $2.1 Billion to Buy the Rest of Clearwire
FCC Forwards Plans for a Shared Small-Cell Band
Understanding Instagram and Why Flickr Might Just Have a Chance
Before it's here, it's on the Bloomberg Terminal.
LEARN MORE