New Google Maps App Restores Order to the Universe
by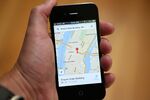 Well, that pretty much settles it. Everyone please go back to whatever you were doing.
Today, Google released its free Google Maps for iPhone app in Apple's App Store. Besides reestablishing galactic tranquility, the new app brings iPhone users all the features they were missing by using Apple's new home-grown Maps app. Apple's Maps were pretty and slick, but the service was crippled from the get-go. Sure, turn-by-turn directions were great to have, but losing such things as transit information was a pretty severe price to pay for it.
Google Maps also adds a delightful new feature that Apple's map app was lacking: accuracy. Reports from Apple Maps users of wrong directions and incorrect information have been legion. I, for one, used Apple's Maps app to find a bookstore to buy a present for a seven-year-old girl's birthday party. Apple's Maps sent me to a Barnes & Noble, but it was a Barnes & Noble-operated college bookstore at St. Francis College (I'm sure the birthday girl is smart, but the gifts there weren't terribly festive). When I looked it up on Google's app after the fact, the special status of the bookstore was indicated.
Google's new, native app (in this weird interregnum, iPhone users could continue to use a Web version of Google Maps, but the new app is faster, smoother, and more feature-laden) includes old friends such as Street View, so you can see what a destination looks like, as well as public transit information: Bus lines, subways, and commuter rail are all part of the navigation mix. Try to look that information up in Apple's Maps, and the app suggests third-party apps to provide this data. That's like a restaurant serving you an appetizer, then refusing to provide an entrée but very nicely suggesting some other places you can go to get a main course. Um, thanks, but I'm already here—why can't I have a full dinner?
Google's new app also incorporates more data for the locations you may be looking for. Look up a restaurant on Apple's maps app, and you could pull some data from Yelp, but the same search on Google Maps yields Zagat ratings, menus, links to OpenTable and other useful information.
Here's what you don't get with Google Maps instead of Apple's Maps: You'll lose Flyover, Apple's gee-whiz feature where you can see a satellite-image of an area in a 3D-like perspective. Flyover was impressive to look at, but it's always been little more than a gimmick. After all, being able to travel virtually over land and between buildings is not nearly as useful as Google's Street View, where you can actually see where you're going. Unless you're Superman, I suppose. OK, fine—if you're Superman, Flyover is incredibly useful. The rest of us are better off with more terrestrial navigation capabilities.
You also lose Siri integration, so you can't activate Google Maps by voice. That's a bummer, but not a dealbreaker. Google Maps more than compensates for that by linking to your Google account, so any Maps search you've performed on your PC will be listed in the history of the Google Maps app. This is particularly helpful if you're planning a trip: You can find your destinations on your laptop or tablet at home (which is easier than entering all that info on a tiny touch screen), and all your places will be a tap away on your phone when you get in the car.
Last but not nearly least, Google Maps now has turn-by-turn navigation, a feature that had previously been reserved for Android users only. Find a destination, and Google will guide you by voice and image, showing and telling you the next turn you have to make.
And for this, we actually have Apple's Maps app to thank. Turn-by-turn navigation was the one feature you couldn't get through Google Maps, part of the ongoing blood feud between the two companies. But once Apple offered the feature in its mapping app, Google was forced to respond. Presumably, Apple engineers and coders are hard at work at their answer to this latest salvo from Mountain View.
As consumers, we should be happy, as all this competition works to our benefit. Think about it that way, and Apple Maps was the best thing that ever happened to Google Maps.
Before it's here, it's on the Bloomberg Terminal.
LEARN MORE