Antitax Christmas Cards From the Fiscal Cliff
By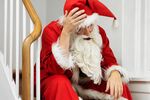 From the super PAC that spent more than $34 million on nasty ads aimed at kicking President Obama out of office comes a friendlier holiday approach to the fiscal cliff fight. On Merry Taxmas, a website created by Americans for Prosperity (AFP), visitors can pick one of 10 antitax Christmas cards to send to family, friends, or members of Congress. There's Santa, "Dashing through the snow and over the fiscal cliff; Merry Taxmas!," featuring an image of a fruit cake ("You take the tax hikes, I'll take the fruit cake. Merry Taxmas!"); and one with an old photo of Macaulay Culkin from Home Alone ("Merry Taxmas, ya filthy animal").
The Merry Taxmas site also has its own version of a "naughty or nice" Christmas list. The Naughty list includes GOP lawmakers who've broken with Grover Norquist's tax pledge. On that list is Tennessee Senator Bob Corker, who has supported tax hikes on top earners as part of the budget negotiations, and Georgia Senator Saxby Chambliss, who provoked the ire of ideological purists when he said, "I care more about my country than I do about a 20-year-old pledge" on a radio show this summer. The Nice list includes Tea Party favorites such as Jim DeMint, the South Carolina lawmaker who's leaving the Senate to head the Heritage Foundation, and Kentucky Senator Rand Paul.
AFP, which is funded by billionaires Charles and David Koch, has stayed out of the latest round of fiscal cliff-related ad wars. As my Bloomberg News colleagues Julie Bykowicz and Greg Giroux reported Dec. 12, conservative groups, including Karl Rove's Crossroads Grassroots Policy Strategies, and liberal groups, such as MoveOn, are already airing ads to pressure lawmakers in vulnerable districts to vote their way. For now, at least, AFP is sticking to humor. Or what passes for it in politics.
Before it's here, it's on the Bloomberg Terminal.
LEARN MORE