The Pope on Twitter: New Tool, Same Old Message
by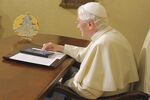 Here's what we learned from the inaugural tweets of Pope Benedict (aka @pontifex) on Dec. 12:
1) Spiritual leaders can struggle with technology even so basic as the iPad's touchscreen. (The pope's first tweet didn't go out when he pressed down too hard on the tablet, which prompted a colleague to send it off with a light tap.)
2) The world cares what he has to say, as his benign greeting was retweeted almost 50,000 times.
3) The pontiff's carefully crafted tweets about prayer and Jesus suggest he's not likely to toss out some gaffe about the jobs number or Kim Kardashian. The Bible's pithy aphorisms are well suited to the 140-character limit of Twitter.
But the biggest takeaway for 1.2 billion Catholics worldwide is that, while the church may embrace a new platform, it's not about to take on a new message. For anyone who hopes that the pope's move into social media signals a desire to be relevant and inclusive, that could be a disappointment. Rather than match a bold new platform with a bold message, Pope Benedict chose to take on the kinds of questions typically reserved for Sunday School: How can faith in Jesus be lived in a world without hope? How can we celebrate the Year of Faith better in our daily lives? Any suggestions on how to be more prayerful when we are so busy with the demands of work, families, and the world?
Some might call them "softball" questions, or certainly ones that don't exactly challenge the status quo. Moreover, the pope's answers were hardly the stuff of inspiration, as he exhorted Catholics to speak to Jesus in prayer, offer everything they do to the Lord, and know that God's love is always faithful.
OK, the Dalai Lama (@DalaiLama) isn't exactly tossing out bombs on Twitter, either. But it would be unfortunate if the pope's Twitter account, which already boasts more than a million followers, ends up being little more than standard-issue missives to stay the course. This is a church that's been remarkably immune to the winds of change when it comes to the beliefs and passions of its membership.
The 85-year-old pope who scrolled through his iPad this morning to tweet is the same man who has rebuked America's largest community of nuns for its "radical feminism." He has said same-sex unions threaten human dignity and the future of humanity itself. His organization continues to reel under allegations of sex abuse and evidence that abusive priests were often transferred rather than brought to justice. Indeed, given the Vatican's fierce opposition to dissenters in recent years, is it any wonder that the pope approaches Twitter as yet another pulpit?
And yet Twitter represents an opportunity for the pope. If he really wants to reach a new generation of Catholics, he needs to tackle some of the tougher questions that are bound to come his way. Those can be personal questions about matters like abortion, birth control, and sexual orientation. They can be matters of doctrine when it comes to the role of women and celibacy. His tweets can also clarify tough topics like pedophilia, corruption, and sensitive political matters.
It's refreshing to see Pope Benedict enter a new medium in an effort to increase the church's relevance. He has the followers. He has the platform and the buzz. Now, the question is how he'll use it.
Before it's here, it's on the Bloomberg Terminal.
LEARN MORE