The 12/12/12 Profiteers
By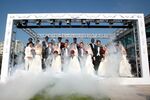 The symmetry of Wednesday's date, 12/12/12, was a stellar opportunity for wedding purveyors, restaurants, and a particularly enthused football fan from central Wisconsin.
In an international bout of "No-way-he'll-forget-this-date" scheduling, mass weddings were all the rage, from Malaysia to Vegas. The Devil's Thumb Ranch Resort & Spa in Tabernash, Colo., offered a $1,200 package for 12 couples to marry at the resort, with a two-night stay, photo session, dinner, flowers, and a breakfast. The "group wedding" was scheduled for 12:12 p.m., and two couples wed, says Lindsay Johnson, the resort's group sales coordinator. "Ideally, we did want 12 couples, but with the two couples we have we couldn't ask for better couples. They're really amazing."
Indeed, not every wedding peddler found 12/12/12 an easy sell. The Chapel of Memories in the Old Town section of Temecula, Calif., offered a 50 percent discount Wednesday from the usual $400-$800 rate for weddings. No takers. "I just thought I'd run a special to see if people would be interested," says wedding coordinator Melissa Ritenour. "They're not. I guess everyone must be working."
The date will also help T-shirt and other vendors near Madison Square Garden in Manhattan, the venue for the 12/12/12 benefit concert to help Hurricane Sandy victims. The four-hour show has a virtual Rock Hall of Fame cast of performers on the bill, including Paul McCartney closing amid a group finale.
In Wisconsin, 12/12/12 was Aaron Rodgers Day by state decree after Jennifer Brilowski of Stevens Point spent a year organizing fellow Green Bay Packers fans to implore the legislature to honor Rodgers, the team's quarterback, who wears No. 12. (He also has a Super Bowl ring.) The effort urged people to wear their Rodgers jerseys and donate $12 to charity. The Fox River Mall, in Appleton, adopted a marketing blitz for the day. A $12 wax, anyone? For his part, Rodgers was stoked. "I got a sweet plaque signed by the governor that has four or five whereases in it," he said Tuesday during his weekly radio show, Yardbarker.com reported. "'He is the quarterback of the Packers, whereas,' I love that."
In Mumbai, the Taj Mahal Palace restaurant group unveiled a dozen special menus for its 12 restaurants to honor, as the company put it in a press release, "the most awaited date of the century." Maybe, but let's see how 11/12/13 works out.
Before it's here, it's on the Bloomberg Terminal.
LEARN MORE