Move Your Startup to St. Louis, Get $50,000
by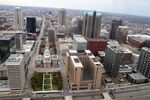 What would it take to persuade you to move your startup to St. Louis? Arch Grants, a not-for-profit that launched a competition to do just that earlier this year, is betting $50,000 will help. Chile's government wants to lure you to the South American country for $40,000. Grove, a small Oklahoma town about 100 miles from Tulsa, is dangling free land.
The initiatives—we've chronicled Chile's largesse here and here and Grove's here—don't require founders to give up equity stakes, hand over a portion of future sales, or commit their first born. The main requirement is relocating to the country or city or town. The hope is that your genius rubs off on your neighbors and/or you hire some of them.
So far, Arch Grants's first batch of 15 companies has created 51 jobs, says Executive Director Sarah Spear, and the deadline for the next round of applicants is Jan. 1. Once the group picks the next 20 startups that meet its criteria, $50,000 will be awarded to each in tranches over the course of a year, starting in June. Giving for-profit businesses money from the group's donors, which include wealthy individuals and such St. Louis behemoths as Emerson and Peabody Energy, is intended to "change the story that has been St. Louis," she says.
"They recognize if we build a strong startup economy here in St. Louis, that becomes a potential talent pool for them." Spear, the co-founder and former chief executive of PharmaSecure, a startup in New Delhi, India, that fights counterfeit medicine, notes that Arch Grants donors can't participate in picking the winners. "We've also seen a lot of other cities trying to do the same thing now, because they see the power of backing startups."
As the New York Times documented in its recent series about business incentives, the practice of using taxpayer dollars to attract or retain multinationals is "becoming more and more indefensible," says Cutting Edge Capital fellow Michael Shuman. "If you're a state or locality and really eager to use government money for jobs, [I think] you're going to get a lot more bang for your buck in supporting promising entrepreneurs rather than [multinationals]. Just conceptually, this is the only way the economy is going to grow new jobs: The other practice is simply moving jobs around the chessboard."
Shuman, who plans to release a new study on incentives and locally owned businesses later this month, notes that awarding money directly to entrepreneurs should raise doubts, too. "If I was a government agency, I would put money into something like a Village Capital [a venture capital firm in Atlanta that backs social entrepreneurs] that [had] a clear framework rather than just throw the money at one entrepreneur at a time," he says. And "a lot more research is needed" to gauge the efficacy of giving capital to local businesses. "Anything that arbitrarily picks winners and losers is fraught with danger."
After obtaining an EB-2 visa with assistance from lawyers who donate their time to Arch Grants, Costa Rican national Arnoldo Muller-Molina moved his search-engine startup, simMachines, from near Costa Rica's capital to St. Louis this summer. "Arch Grants was unique in that they not only give you support for your startup, they also help you with the visa application," says Muller-Molina. St. Louis businesses and universities that are adept at Big Data applications (the city ranked No. 4 in a 2012 roundup of Big Data jobs) were "also crucial" because "my startup is all about transforming data into money; that's why it was a natural and perfect fit."
Compared with costs in other startup magnets, such as Silicon Valley, St. Louis is a bargain. "$50,000 goes a long way," says Spear, who moved to the city about a year ago. "For example, you can rent an office in a space we recommend for $150 a month."
Before it's here, it's on the Bloomberg Terminal.
LEARN MORE