Hard Choices: From 'Business Guy' to Football Coach
By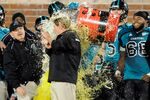 When Joe Moglia was hired as head coach of the Coastal Carolina Chanticleers two years ago, the appeal seemed to lie more in his pocketbook than his playbook. The former TD Ameritrade chief executive had just led the Omaha Nighthawks to a 1-5 record in the second-tier United Football League, following two seasons of volunteering with the University of Nebraska Cornhuskers. Before that, he'd spent a few years as a defensive coordinator at Dartmouth. In between, he'd amassed a fortune on Wall Street.
It turns out Moglia has more to offer than money. After leading Carolina to a Big South championship and the second round of the NCAA Division I Football Championship, Moglia has been named one of five finalists for the Liberty Mutual FCS Coach of the Year Award. (The winner will be announced on Jan. 7.) He's also a finalist for the Eddie Robinson Coach of the Year Award, which is decided by the Sports Network.
Moglia, 64, talked with Senior Editor Diane Brady about his quest to be a coach.
"In summer 2008, when Wall Street was imploding, we had our sixth record year in a row. The timing was right for me to retire as CEO. I thought I might learn how to play the piano or speak Italian. Then [Franklin Resources Chairman] Charlie Johnson phoned to say the head coaching job at Yale might open up and I should consider it.
That got my juices flowing. The toughest career decision I ever had was when I left coaching in 1983. I had the opportunity to join the staff at the University of Miami, but I was going through a divorce. My four young kids lived in New Hampshire. A football coach works four months without a day off, and I couldn't afford to fly the kids back and forth. I turned down that job and became an institutional bond salesman at Merrill Lynch.
Charlie's call got me thinking. Over the next several months, I filled out legal pads with ideas. Warren Buffett and I have dinners periodically. At one of those dinners, I said, 'Warren, guess what I'm thinking about? I want to go back to coaching.' He said, 'As long as that's something you really love, you should pursue it. But you got to get the right job. You don't want to go just any place.'
I knew I'd be an unconventional choice, but I thought if someone truly assessed my skill sets, they'd see they line up really well. I was a little surprised at how few athletic directors or college presidents would go through that process. They just dismissed me as someone who clearly would not be qualified, as I hadn't coached for a while. They didn't even want to talk to me.
I needed to network and get the rust off. I'd decided to go back to coaching around Thanksgiving of 2008. By now, it was April. I needed a place to sharpen my skill sets. I had a meeting with [University of Nebraska head coach] Bo Pelini and asked if he'd consider letting me take an unpaid internship. He did. It was an incredible opportunity. When I went back to Nebraska a second time in 2010, there was a change in perception. People thought I was a business guy who wanted to coach. Now they knew I was a coach getting back to coaching. In October 2010, I was offered a coaching job in the United Football League. I thought I'd go to Virginia, but then the Omaha Nighthawks offered me a job.
A year later, Coastal Carolina University offered me a job as head coach.
We have to be able to compete at the national level. We're not quite ready to do that, but we're making good progress. I've never been a wild football fan, but I've always loved the strategy of the game. To me, it's advanced chess with 22 people functioning at once with a lot at stake. The game has changed, but it's still about having a well-executed plan. Hopefully, one day we'll win a national championship."
Before it's here, it's on the Bloomberg Terminal.
LEARN MORE