The Pope's Social Media Guru On @Pontifex's First Tweet
by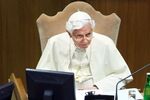 As Pope Benedict XVI prepares to send out his first tweet on Dec. 12, few wait with greater anticipation than Monsignor Paul Tighe. As Secretary of the Pontifical Council for Social Communications, Tighe is the Pope's social media guy. I spoke with the Irish-born priest about how he's easing the leader of the Catholic Church—who will tweet under @Pontifex—into the digital world.
How does the Pope feel about doing his first tweet?
I think he's intrigued and he's pleased. We've been waiting for the questions. We have to select questions and engage him around those questions. I wish we could just have it lined up, but each tweet will have been seen and approved by the pope.
Do you anticipate daily tweets?
Initially, I think it will be infrequent and regular, probably related to those set piece moments where the Pope addresses the world. On Sunday, he gives a public address in St. Peter's Square. Wednesday audience is another public occasion. In the preparation of that, the Pope can give some attention to the formulation of a tweet so that it's actually coming from him. For the initial launch, he will respond directly to a number of questions pertaining to faith.
Did Twitter help?
They know how to establish a sense of occasion. They've been extremely helpful, particularly the vice president for social innovation, Claire Diaz-Ortiz.
The prospect of being hacked must be a particular concern.
We've worked with Twitter on this. They've worked with other major global figures and they've been able to assure them and help them have appropriate levels of security, whether it's Barack Obama or the Dalai Lama. We feel we have as good security as it's possible to have with that medium.
Why doesn't the Pope follow anyone?
The choice between following and not following was partly because we noticed the Dalai Lama didn't follow anyone. How do you decide who do you follow? That's one reason why Facebook, where you have to consciously decide who is and who isn't a friend, wouldn't be the best medium. We could have looked at following cardinals and bishops but then what?
Barack Obama follows more than 600,000 people.
Maybe we should talk about this as a best practice for global Church leaders.
Why now?
A number of figures, from cardinals and bishops to individual believers, are quite present in Twitter. In a sense, the Pope's presence is, ex post facto, an endorsement or encouragement of them. We have a lot of people who are saying, "If the Pope is going in there, maybe it's time for me." We've been looking at this actively at least since January, when the Pope gave a message focused on silence in advance of World Communications Day.
Silence?
Silence is an integral part of communications. If you're not not silent, you're not listening. He feels that if we use these well, we can be listening. Social media gives you a means to listen. This has extraordinary potential in helping to figure out how people are interpreting your message. The Pope feels new media can also help to foster attitudes of silence and reflection and teach people meditation. He also said that it's possible, using very small phrases, to communicate important truths.
How do you get those truths down to 140 characters?
It's a challenge, but the essence of biblical teaching is short. They're pithy. Last year, we divided the Pope's message for Lent into 40 tweets or 40 short phrases. We went on a site we created about four years ago called Pope2you.net and asked if anyone wanted to get it. About 30,000 wanted to get one of the Pope's tweets every day for Lent.
I saw a video on the home page for Advent, Gangnam Style.
The Diocese of Sydney was responsible for that. It's a great site. We spent about €2,000 ($2,599) on it. In the first week, we had 5 million hits. We have 25 people working full time in the council. The Church is a community of communities. It's not unlike a network. Look at that Advent video. We liked it. We put it on our website and other dioceses picked it up. I sent it to my nephews and nieces in Ireland and they loved it. That's the power of social media.
I know. The pope has 610,000 followers without having done a single tweet.
It's not about trying to clock up the number of followers. But there's a certain little pleasure in seeing that the numbers are relatively good. But we're not in competition with anyone. The name of the game is not about followers of the Pope. It's about ways to reach people who may be touched by, strengthened by, encouraged by the words of the Gospel. If there are followers, they're followers of Christ.
So Twitter is a new place to preach.
It's almost like the equivalent of the old marketplaces where Jesus went to engage people. That's where we have to be, with all of its ambiguities and difficulties, because that's where the people are.
Before it's here, it's on the Bloomberg Terminal.
LEARN MORE