Retailers Use Technology to Manage the Holiday Rush
By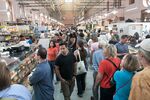 A Thanksgiving weekend study (PDF) by small business finance provider Capital Access Network shows a 3.9 percent increase in same-store credit and debit-card sales at Main Street restaurants and merchandisers, compared to the same period in 2011. A recent look at how Etsy sellers are faring this holiday season indicates that sleepless nights lie ahead. How can independent retailers make the most of inexpensive technology to better manage their holiday rush online and off? Here are a handful of suggestions:
1. Prepare for spikes in traffic. Huge increases in Web traffic are good, says Shawn Busteed, vice president of technology at TBA Global, an event-planning agency in New York. "You're in a bad position for all the right reasons if you've had a huge spike in sales," Busteed says. He recommends that your Web manager run a free load-test tool during off hours to locate where your site's breaking point, then put in a call to your website's hosting company to make sure its servers are up to capacity and that it has plans in place to cope with heavy traffic in the next two weeks. Ensuring that your applications are updated and your backups are current will also help keep your website performing at its best.
Website down time—and the resulting sales and data loss—costs companies with under 500 employees more than $55,000 a year, according to a November 2010 survey sponsored by CA Technologies. "Plan for 10 times the traffic you're expecting, and that way you'll be able to handle anything," says Justin Moore, chief executive of Axcient, a Mountain View, Calif., data protection and information management company.
2. Streamline chores with apps and other services. Jessica and Tyler Russell expect their 10-year-old jewelry business, Tumbleweed Bead Co., in Wenatchee, Wisc., will do $375,000 in 2012 sales. During their annual holiday trunk-show tour, they manage inventory, track shipments, and deal with customer requests, using smartphones and mobile applications such as Dropbox and eFax. Compared to the manual credit-card imprinters they used to use, Jessica says, payment service Square saves at least 10 hours a week during the holidays: "Thanks to that time savings, we were able to add five additional stops to our 2012 tour and expect to more than double our tour sales."
3. Convert visitors into customers. Make sure you impress newbies to your site by spotlighting your best products and offering excellent customer service. First-timers may have questions about shipping times or prices, availability of different sizes or styles, and your payment policy. Get those questions answered quickly and efficiently and you'll convert them into customers; ignore them and you'll likely lose that person forever. The Russells use Evernote as a customer relationship management tool, making note of customers' contact information, questions, spouses' names, and jewelry preferences when they first make contact with Tumbleweed.
4. Automate sales metrics. Put systems in place that record customer-contact information and track buying patterns. This can help you decide what products to sell next year and how to market them most effectively, as well as find and correct any stumbling blocks that stop potential customers from buying. Marion Freijsen, an author and co-founder of online entrepreneur community EFACTOR.com, recommends software such as Mouseflow or KISSMetrics, both of which charge monthly subscription fees but offer free trials. "On any e-commerce platform, you see a certain number of people come to your site, and you also see that only a percentage actually buy something," she says. "These IT gadgets allow you to monitor your customers' behavior on your site and see where they drop off—if they abandon an order before finalizing it."
5. Follow up in the new year. Make sure to contact new (and returning) customers after the holidays to thank them for their purchases and offer them exclusive deals. "One efficient way to give out coupons is investing in a payment terminal that automatically prints discounts along with the customer's receipt. Coupon details can be programmed and customized in advance, saving you the time and trouble of remembering to provide the coupon whenever you help with customers' purchases," says Connie Certusi, an executive vice president at software provider Sage. Encourage customers to write reviews online after the holidays about their experience with your company.
Before it's here, it's on the Bloomberg Terminal.
LEARN MORE