Gloom on Main Street: Sour Grapes or Warning Sign?
by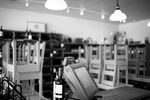 Small business owners' expectations for the economy dropped sharply in November, as measured by the National Federation of Independent Business's monthly survey of members, and the group blames the decline squarely on the election. "Nearly half of owners are now certain that things will be worse next year than they are now," NFIB economist Bill Dunkelberg wrote in a report released on Dec. 11. "Washington does not have the needs of small business in mind."
It's not surprising that NFIB members polled were bummed after the election. The small business group, after all, led the Supreme Court challenge to President Obama's signature health-care law. Every dollar of the group's $4 million in political spending this cycle went to back Republican candidates or to defeat Democrats, according to the Center for Responsive Politics. The NFIB has acknowledged that its members skew right. Still, more neutral gauges of small business sentiment, such as a Wells Fargo/Gallup Poll, also showed a sharp drop in expectations following the election.
While the NFIB survey registered small declines in business owners' plans to make investments and increase inventories, as well as in their their sales expectations, what really dragged down the results was a steep drop in expectations for business conditions six months out. The index as a whole dropped more than five points and stands at its lowest level since March 2010. The report calls the current environment "a poisonous climate for investment and expansion."
There's often a gap between what people tell pollsters and how they behave. While the recovery has been slower than almost everyone would like, it's worth keeping in mind how well business has done during the Obama administration, by some measures. Here's a look at the performances of the Standard & Poor's 500-stock index and corporate profits since his inauguration: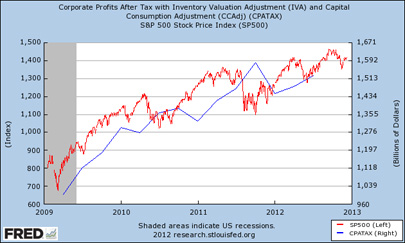 Gloom among small business owners is a troubling sign, and Main Street has had a slower recovery than larger businesses have enjoyed. If small businesses are losing confidence and, in turn, hold back on investing and hiring, that would be bad news for growth in 2013. But if today's survey reflects political disappointment more than the actual performance of the economy, things may not be as dire as the NFIB's rhetoric suggests.
Before it's here, it's on the Bloomberg Terminal.
LEARN MORE