The FDIC Claims an IndyMac Victory
By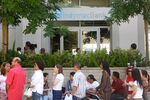 Three men are joining the short list of bank honchos a U.S. court has found guilty of misdeeds in the runup to the housing crash. A federal jury in Los Angeles found on Friday that three executives at the failed bank IndyMac must pay $169 million in damages for their role in the bank's wave of bad loans to homebuilders. The Federal Deposit Insurance Corp.'s lawsuit said the execs were negligent in approving 23 particular loans to homebuilders who soon defaulted on the debts. The IndyMac execs denied the charges, saying they were prudent lenders who were caught up in the market collapse.
Few executives at big or midsize banks have had to deal with criminal or civil judgments in the aftermath of the housing meltdown. As the Wall Street Journal pointed out last month, most criminal prosecutions have focused on small banks. The most prominent criminal decision to date came last year, when a jury found Lee Farkas, the former chairman of Taylor, Bean & Whitaker, guilty of a $3 billion fraud. (Farkas's appeal was denied this summer.) There have been more civil cases, including a $64 million settlement by executives at Washington Mutual, who neither admitted nor denied the charges. Wall Street convictions have been even more elusive.
IndyMac's collapse was the most costly hit to the FDIC, and the Los Angeles Times notes that this was "the first of 39 suits the FDIC has filed against 308 insiders at banks." Most of the FDIC-insured banks that failed in the financial crisis were regional banks, so while the agency may win more cases against bankers, don't expect them to come from Wall Street.
Before it's here, it's on the Bloomberg Terminal.
LEARN MORE