Sir Mervyn Did Not Sound Like Sir Ben
by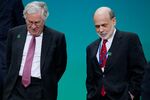 In contrast, cooperation and creativity to deliver fiscal clarity—in particular, a plan for resolving the nation's longer-term budgetary issues without harming the recovery—could help make the new year a very good one for the American economy.
—Ben Bernanke, chairman, the Federal Reserve System, "Economic Recovery and Economic Policy," the Economic Club of New York, Nov. 20, 2012
Mervyn King, governor of the Bank of England, spoke to the Economic Club of New York today. Some 20 days after the chairman's speech, it was stunning: the different approach, perspective, and nuance between the two efforts.
At the beginning of his graceful speech (quoting MacMillan on JFK and McChesney Martin of 1957), Sir Mervyn noted that pre-crisis, U.S. bank exposure was 100 percent the size of the economy; his U. K. banks weighed in at an Irish-like 500 percent.
He noted that fair Britain celebrated the Olympics and the Queen's Diamond Jubilee—"events you have not been blessed with." He quietly observed the "black cloud of uncertainty" that has moved northwest, across the channel. Europe's dithering threatens England.
Most telling, was what he did not say.
Read the above speech-ending optimism of Chairman Bernanke. It is one outcome of an America that clears, always ugly and clumsy, markets.
I did not hear 2013 green shoots this noon from the governor. Sir Mervyn did not sound like Sir Ben. Discuss.
Before it's here, it's on the Bloomberg Terminal.
LEARN MORE