Richard Branson's £1 Million Wager on Virgin
by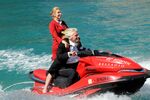 Billionaire Richard Branson is willing to bet that his flagship airline has a future—at least until 2018.
In a blog post Monday, Branson proposed a £1 million ($1.6 million) wager with the chief executive of British Airways' parent company, Willie Walsh, after Walsh said that Delta Air Lines would likely acquire control of Branson's Virgin Atlantic "and suggested the deal could ultimately see the end of the Virgin Atlantic brand," the Guardian reported Dec. 9.
"This is wishful thinking and totally misguided," Branson wrote on his company's site, referring to the airline as "my baby." "Will BA never learn? Let's see how much they believe this. Let them put their money where their mouth is." The Virgin Group founder is offering to pay the money to British Airways if the Virgin Atlantic name disappears within five years. If not, Branson proposed that BA pay Virgin employees the same amount. A British Airways' representative in New York did not immediately return a call or e-mail seeking comment.
Delta is negotiating with Singapore Airlines to acquire that carrier's stake in Virgin Atlantic, according to media reports. On Monday, Bloomberg News reported that Delta is close to a deal and would pay $300 million to $500 million for Singapore's 49 percent stake. Such a move would help Atlanta-based Delta bolster its presence at London Heathrow, one of the world's most congested airports. In his comments to the newspaper, Walsh said, "I can't see Delta operating the Virgin brand—Delta believe they are the No. 1 airline in the world."
Walsh's comments came as Virgin Atlantic announced plans to begin offering its first domestic service next spring, with as many as two dozen daily flights among Manchester, London Heathrow, and Scotland. The new flights, operated by Aer Lingus, would help to feed domestic traffic to Virgin's long-haul service from London, which suffered a blow when British Airways' parent, International Consolidated Airlines Group, acquired British Midland International.
Before it's here, it's on the Bloomberg Terminal.
LEARN MORE