A Kinder, Gentler Lexus Christmas Commercial
by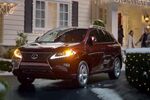 Maybe there's hope for mankind after all.
Much has been written (and satirized) about the disconnect between the world where most of us live and the one portrayed in the Lexus "December to Remember" car ads. In Lexus World, some lucky person of wealthy extraction is given a new car with a fancy red bow. The cutesy tricks employed to surprise the wife/husband/girlfriend/boyfriend only makes it more painful for those who know the best they can hope for is the Bad 25th anniversary box set.
But this year's batch of Lexus ads appear to have lost a bit of their Masters of the Universe edge. The 2012 message seems to be: We know you probably won't rig your luxury apartment elevator to play the Lexus jingle as part of an elaborate gift-giving ritual. But should you tear yourself away from Facebook for a few moments to go experience the good life, we hope it will be in a Lexus.
Whether that makes anyone actually buy a Lexus is another question. Some of the commenters on the Lexus Enthusiast blog are underwhelmed and think the ads are skewed too much toward young viewers. And after losing its U.S. luxury car crown to BMW and Mercedes last year, Lexus needs all the help it can get.
Before it's here, it's on the Bloomberg Terminal.
LEARN MORE