New Year May Bring MBA Hiring Boom
Louis Lavelle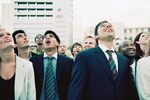 For all the talk about job cuts on Wall Street and diminished prospects for MBAs in finance, it's easy to lose sight of the fact that the vast majority of MBAs are still in demand. New research from the Graduate Management Admission Council, which publishes the GMAT B-school entrance exam, predicts something of a hiring boom next year.
GMAC surveyed 201 employers between Oct. 31 and Nov. 16 (mostly big U.S. companies) and found that 76 percent expect to hire MBA grads in 2013, up from 69 percent this year, and that 23 percent expect to hire more than they did in 2012. And it wasn't just MBAs who were feeling the love from employers. The percentage of employers planning to hire a broad swath of specialized master's degree graduates was up across the board. You can read the full report here.
If there's one place where the news was less than wonderful, it was salaries. As we've reported before, MBA salaries have been stagnant since 2008, according to GMAC's own data. The new survey found that 43 percent of companies planning to hire new MBA grads next year expect to offer starting salaries that keep pace with inflation, while 13 percent expect to be a bit more generous. That means 44 percent of the graduating class of 2013 can expect a bit less.
The cost of an MBA has been on a gravity-defying trend of late—the top 10 two-year programs in Bloomberg Businessweek's latest ranking are all well north of $100,000—so this is not the kind of news that warms the cockles of a newly minted MBA's heart, particularly one who borrowed tens of thousands of dollars to get the degree. Rising costs plus stagnant salaries equals an erosion of return on investment. It doesn't take an MBA to figure that out.
Before it's here, it's on the Bloomberg Terminal.
LEARN MORE