Netflix Shows Facebook Is Not the Internet (Yet)
By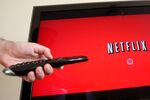 Not so fast, kiddos. That's what the Securities and Exchange Commission seems to be saying by warning Netflix that it may sue the company over a single Facebook update. The SEC's warning centers on a July 3 Facebook post by Chief Executive Officer Reed Hastings that said Netflix customers streamed more than 1 billion hours of video the previous month. The day of the update, Netflix shares rose 6.2 percent.
The SEC says the Facebook post may have violated securities law, which requires companies to share material information through a "non-exclusionary method," such as a newswire or press release. The idea is that all investors should have equal access to information on how a company is performing. If a company shares material information in, say, a speech or event, it should issue a press release or file a Form 8-K with the SEC, but Netflix didn't do that after Hastings's status update.
Whether a social media posting is considered a broad form of sharing information is still relatively uncharted territory. One does not have to be registered on Twitter to access a tweet; the same is not true with Facebook.
Some have chided the SEC for being behind the times, like a granny who's still paying for AOL dial-up. "This may be a case when the SEC needs to play catch-up," Charley Moore, founder of the legal services firm Rocket Lawyer, told Bloomberg News. "Disclosing information to 200,000-plus Facebook users is basically the same as issuing a press release."
But others think the SEC shouldn't adapt too quickly. "Perhaps I'm old-fashioned, but I don't consider Facebook the Internet," former Sun Microsystems CEO Jonathan Schwartz told Bloomberg News. "Facebook is Facebook, and you need an account." That's particularly powerful coming from Schwartz, who himself successfully pushed the SEC to allow companies to announce their earnings on their own corporate websites.
Whether Hastings and Netflix will face a civil suit comes down to two main questions: Was the information "material," and if so, was the Facebook posting an "exclusionary" way to distribute the information? Hastings says neither of those ifs are true. He says that the company had already announced it was approaching 1 billion view hours a month, and that Netflix's stock performed well that day because of other positive news, including a favorable analyst report. (DealBreaker's Matt Levine has his doubts.)
Hastings also pointed out that more than 200,000 people follow him on Facebook and that many of his followers are reporters and bloggers who wrote about the news. As Hastings wrote when disclosing the notice: "SEC staff questions a Facebook post. Fascinating social media story." Perhaps more telling, Hastings made those claims in a Facebook post—which Netflix also submitted as an 8-K filing to the SEC.
Before it's here, it's on the Bloomberg Terminal.
LEARN MORE