Merriam-Webster's Most-Searched Business Words
by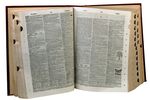 This week, dictionary publisher Merriam-Webster announced its annual "Words of the Year," a collection of 10 words that "shed light on the topics and ideas that sparked the nation's interest in 2012." In other words, they're just some of the most-looked-up ones on its website. Topping the list are "socialism" and "capitalism," which makes sense given the heated election season. Other buzzwords making the cut include "globalization" and "malarkey"—the latter thrust back into the lexicon after a multiple-malarkey showing during the vice presidential debate, in October, by a smiling Joe Biden.
Researchers at Merriam-Webster make the list by compiling the most-searched pages—they get about 1.2 billion page views a year—and eliminating words that are always big search items yet have no popular relevance. "We're interested in news that triggered look-ups. But words like 'affect' and 'effect' are always going to be really high on the numbers," says Peter Sokolowski, Merriam-Webster's editor-at-large.
So what are the business words that people look up the most, year after year?  We asked Merriam-Webster to provide us with the business-related equivalents of "affect" and "effect." Herewith, in alphabetical order, some of the English language's consistently most-looked-up business words:
• acquisition
• bureaucracy
• entrepreneur
• expedite
• indemnification
• niche
• patronize
• proprietary
• stewardship
For fun, we crammed them all into one (admittedly run-on) sentence:
When Hewlett-Packard, a technology company founded by two entrepreneurs in 1939, made the $11.1 billion acquisition last year of U.K.-based Autonomy, a big player in a niche market of semantic-search software—and long regarded for its high-value proprietary smarts—it would have been better for HP if the deal had been bogged down in the paperwork of bureaucracy and sluggish due diligence rather than expedited, because it turns out the stewardship at Autonomy may have patronized HP by providing fraudulent accounting, which led to the recent writedown of $8.8 billion, a development that leads one to wonder if the company obtained indemnification from angry investors' damage claims.
Makes sense, right?
Before it's here, it's on the Bloomberg Terminal.
LEARN MORE