Good U.S. Jobs Report Comes With an Asterisk
by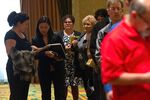 The economy added 146,000 jobs in November and the unemployment rate fell to 7.7 percent, its lowest level since December 2008, the government said today in a report that was complicated by special factors of weather and politics.
Paul Ashworth, chief U.S. economist for Capital Economics, described the report as "something of a mixed bag" but said "on balance, it's positive."
The drop in the jobless rate, from 7.9 percent in October, wasn't great news because of why it happened: More people dropped out of the labor force so they weren't counted among the unemployed. The labor-force participation rate remains depressed more than three years after the end of the 2007-09 recession. If it were at normal levels, the unemployment rate would be substantially higher.
Job growth of 146,000, which is calculated from a survey of establishments, was stronger than the 85,000 predicted by economists surveyed by Bloomberg. It was closely in line with the average of roughly 150,000 per month for all of 2011 and 2012. Retail was a big job producer, with 53,000 added to payrolls. Manufacturing employment was roughly flat.
The government revised previous months' job totals lower. It said September job growth was 132,000 instead of 148,000, and October's was 138,000 instead of 171,000.
The Bureau of Labor Statistics said that it was able to get good responses to its employment surveys despite Hurricane Sandy, which made landfall in the New York/New Jersey metro area just before Halloween. Still, the destruction wrought by Sandy did disrupt the economy—destroying some jobs while creating others. It affected parts of the U.S. accounting for 16 percent of the nation's output. Meanwhile, employers may have curtailed hiring plans for fear of a sharp contraction of the economy in January from fiscal cliff spending cuts and tax increases.
The special factors "suggest an asterisk will have to be put alongside the monthly non-farm report," Bloomberg senior economist Joseph Brusuelas wrote in today's Bloomberg Economics Brief, before the numbers were released. Likewise, finance blogger Barry Ritholtz wrote before the data release that it "seems especially potentially random."
Digging into the numbers, the survey of households that's used to calculate the unemployment rate showed that employment fell by 122,000 (in contrast to the 146,000 increase in the survey of establishments, which is used to calculate the payroll figure). But because the number of people in the labor force fell by 350,000, the unemployment rate also fell.
Before it's here, it's on the Bloomberg Terminal.
LEARN MORE