Chris Christie Really Doesn't Want Obamacare Near His State
By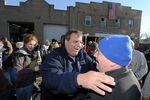 Obamacare still isn't sinking in. Chris Christie, New Jersey's Republican governor, has now vetoed legislation—for the second time this year—that would have allowed his state to enact the law's key element: a state-run health insurance exchange. Christie complained that the U.S. Department of Health and Human Services hasn't told New Jersey enough about the cost of setting up an exchange, which is basically an online marketplace enabling people to shop for coverage the same way they do for books on Amazon. "Until the federal government gives us all the necessary information, any other action than this would be fiscally irresponsible," he said in a statement. "Thus far, we lack such critical information from the federal government."
Even the most fervent Obamacare supporter would agree that setting up a health-care exchange is no easy task. But Christie was also making a political decision. He's running for reelection in 2013, and New Jersey is a solidly blue state that President Obama carried decisively last month. Christie probably would have boosted his chances of winning another term if he'd opted to let the state go ahead with its own exchange. That would have undermined his conservative credentials with Republicans, though—Republicans who would cast a ballot for him in a GOP primary if he decides to run for president in 2016.
Christie has already been criticized by some Republicans for praising President Obama's response to Hurricane Sandy in his state before the election and, some would say, undermining Mitt Romney in the final days of the presidential race. This is a way for Christie to rebut the charge that he's a covert Obama supporter and save himself some headaches over the next year. The White House expects exchanges to start enrolling people in October 2013. Even states that are already busy creating their own exchanges may have a hard time meeting this deadline.
So Christie joins the 17 other governors—most of them Republicans—who want nothing to do with Obamacare and are letting the federal government set up and operate their exchanges. (Seventeen states plus the District of Columbia are planning to create the exchanges themselves. Nine more states, mostly Republican-led, are still undecided.) This is an embarrassment for the Obama administration. Christie, known for smacking down his opponents rhetorically on YouTube, was careful not to rub it in as some of his fellow Republican governors like Texas's Rick Perry or Arizona's Jan Brewer might have been happy to do. Instead of denouncing the evils of Obamacare, Christie noted diplomatically in a press release that the law gives states the "flexibility" to take over their federally operated exchange in the future if they change their minds. After all, he still has to campaign for reelection as governor.
Before it's here, it's on the Bloomberg Terminal.
LEARN MORE